ACES Family Academies offers summer adventure to prospective students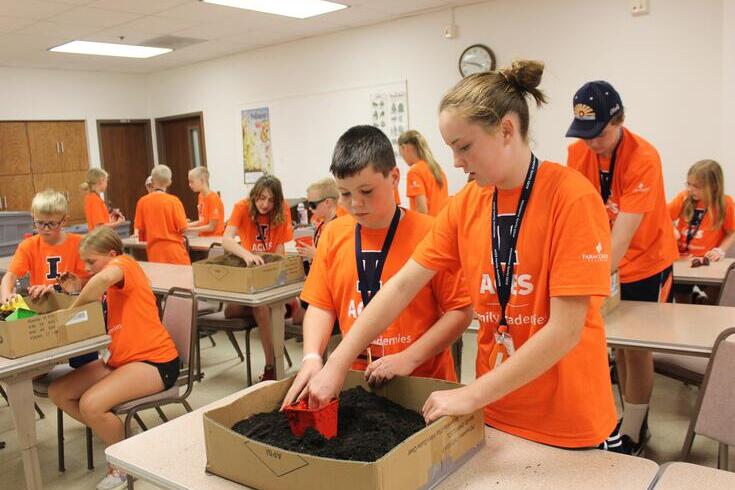 URBANA, Ill. — The University of Illinois Urbana-Champaign is always emptier than usual during the summer months. But this absence is interrupted every July as the College of Agricultural, Consumer, and Environmental Sciences (ACES) welcomes a new kind of visitor.
ACES Family Academies (AFA) is a two-day interactive event held every summer on campus. For this program, ACES alumni and faculty are invited to bring their children, grandchildren, nieces, nephews — basically any child between 8 and 13 — to participate in an immersive college campus experience, including staying in university residence halls, eating in dining halls, and attending college courses offered by ACES faculty, staff, Illinois Extension partners, and volunteers. The 7th annual program ran from July 12 to 14 this year.
"It's heartwarming to be able to welcome our alumni back to campus and see them share their favorite ACES memories and experiences with their youth participants," said Meghan Clodfelter, ACES coordinator of alumni engagement and organizer of the event.
This year about 108 people participated in the program, with plenty of first-time students as well as repeat attendees. Visitors have the opportunity to earn honorary master's degrees and Ph.D.s after three years participating in AFA, receiving a button to commemorate the occasion at graduation, where a past AFA graduate and current ACES student made an appearance as keynote speaker. An ACES campus-wide scavenger hunt was also added to the list of events for students to participate in during the three-day event.
Families chose from 13 unique classes representing the wide variety of departments and areas of study within ACES. For example, participants learned the science behind popcorn and modern genomics in "What's Poppin'?" Or, in "Money Management for Kids," another popular choice, students were introduced to the basics of budgeting and savings.
After classes wrapped up, families attended a dinner, heard from Dean Germán Bollero, and received their diplomas, prepping kids for a future college experience and inspiring potential students to look at the College of ACES when making their college decision.
"Next year's event dates are already set for July 10 to 12, and we hope to see many alumni families there!" Clodfelter said.
ACES Family Academies has been going strong since 2015, with new course options available each year. Registration opens each spring.
For more details, visit the ACES Family Academies website.