ACES recognizes 2023 Funk Awards recipients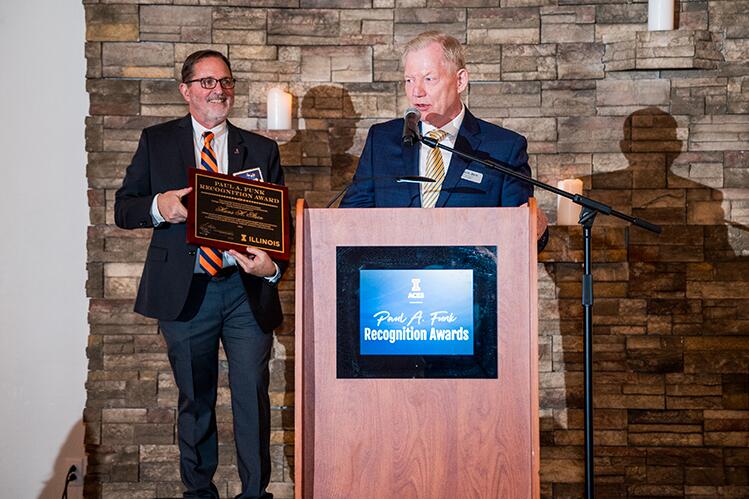 Hans Stein receives Paul A. Funk Recognition at the 2023 Funk Awards.
The College of Agricultural, Consumer and Environmental Sciences (ACES) honored exceptional faculty, staff, and graduate students at the 2023 Paul A. Funk Recognition Awards banquet on Sept. 18 at Pear Tree Estate. Below is a list of award recipients who were recognized by ACES dean Germán Bollero during the ceremony. 
"We are immensely proud to recognize the recipients of the Funk Awards," Bollero said. "Their outstanding dedication to innovation and excellence in research, teaching, and service embodies the spirit of our college and inspires us all to continue to push boundaries, lead by example, and strive to live up to our land-grant values."
This awards ceremony is made possible by generous support from the Funk family and the Paul A. Funk Foundation as well as other award donors who provide steadfast assistance.
2023 Award Recipients
Paul A. Funk Recognition
Spitze Land-Grant Professorial Career Excellence Award
Runge Faculty Distinguished Achievement Award
Faculty Award for Global Impact
Team Award for Excellence
Faculty Award for Excellence in Teaching
Faculty Award for Excellence in Research
Faculty Award for Excellence in Extension
John Clyde and Henrietta Downey Spitler Teaching Award
Specialized Faculty Teaching Award
Professional Staff Award for Excellence
Marcella M. Nance Staff Award
Staff Award for Excellence
Service Recognition Award
Graduate Student Research Award
Louis V. Logeman Graduate Student Teaching Award