ACES welcomes 27 students as new Jonathan Baldwin Turner scholars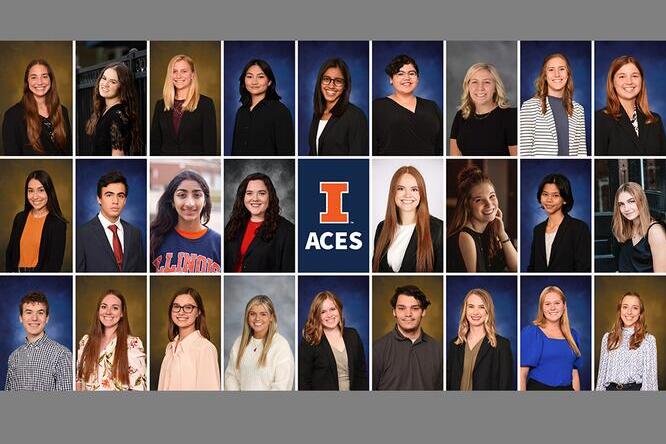 2022 JBT Scholars
URBANA, Ill. – This fall, 27 students joined the Jonathan Baldwin Turner (JBT) Scholars program in the College of Agricultural, Consumer and Environmental Sciences (ACES). JBT Scholars is a competitive scholarship program open to undergraduate students in all ACES majors.
"JBT Scholars is our premier leadership scholars program in the College of ACES. It is a renewable, merit-based scholarship program providing financial support and experiences to develop future leaders in food and agricultural sciences," says Anna Ball, ACES associate dean for Academic Programs.
Students apply during their first year and scholars join the program as sophomores, after a rigorous selection process including an application screen and an interview. Recipients get a scholarship of $2,500 in years one and two and $3,000 in year three, provided they remain in the College of ACES, maintain a GPA of 3.4 or higher, and continue their involvement in JBT professional development activities.
The 2022 cohort is the first to experience a revamped program that adds leadership training and experience to the financial award. JBT scholars must enroll in a leadership class every fall and participate in service-learning experiences.
"We want to provide experiences that will prepare them to be future leaders in food system careers," Ball states. "The leadership development model is focused on an 'I, we, us' approach whereby students learn about individual leadership skills in the first cohort, engage in a team-based leadership course during the second fall, and get involved in a larger societal or service-based endeavor during their final year."
Students are also encouraged to engage with scholarship donors and other key JBT mentors. The experience culminates in a celebratory spring banquet for JBT seniors.
Ball served as a discussion leader in this fall's Foundations of Leadership class with instructor Jennifer Smist, leading discussion sessions with prominent guest speakers, including former U of I President and College of ACES Dean Robert Easter and current U of I Board of Trustees member Tami Craig Schilling.
"The JBT program changed my perspective on what it means to be a leader," says JBT scholar Gretel Wurdack, animal sciences major from St. Louis. "I used to view leadership as one person rising above others, but now I see how leadership requires teamwork and authenticity. You must make meaningful connections to motivate and improve a team."
JBT scholars join a long legacy of scholarship recipients and they will have opportunities to connect with peers and alumni to start building professional and personal networks.
"I'm excited about meeting mentors and peers from all walks of life and experiencing leadership from different perspectives. Being a JBT Scholar allows me to come together with an inspirational group of people who motivate me to explore new things outside my comfort zone," says Shirel Leena Ponnudurai, agricultural and consumer economics major from Selangor, Malaysia.
The JBT Scholars program was established by John Campbell, Associate Dean and Director of Resident Instruction from 1978 until 1983, when he became Dean of the College of Agriculture, as ACES was known at the time.
"Dr. Campbell recognized the need to create a high-level merit-based scholarship program to attract the best and the brightest into the disciplines of food science, economics, agriculture, and related fields. And it has been highly successful in doing so," Ball notes.  
The program is named after Jonathan Baldwin Turner, who was an early proponent of land-grant colleges. Turner was an educator at Illinois College in Jacksonville, and his efforts helped lead to the establishment of Illinois Industrial University in 1867, which later became the University of Illinois at Urbana-Champaign.
Julianne Enas, human development and family studies major from Aurora, says she is honored to be part of the JBT experience.
"This scholarship means everything to me; to be invested in by people who used to be in my shoes inspires me to want to achieve greatness and be able to do the same for future generations of ACES students. I will be forever grateful to be part of this prestigious program, and I'm so excited about the numerous opportunities that will come from it," she states. 
The JBT Scholar program has received longstanding support from alumni and private donors who believe in students and want to help them excel.
Professor Emeritus of Food Science and Human Nutrition Hans Blaschek and his wife Linda are dedicated supporters of the program.
"As members of the ACES family, Linda and I had the opportunity over the years to participate in the JBT selection process. As a professor, I saw the direct impact of the JBT program on student success," Blaschek says. "Both of our daughters were JBT scholars. It was an honor for them and motivational. They are now employed in the food processing sector in Illinois and Wisconsin. It was important for us to give back to the JBT program."
If you wish to contribute to the program, contact Stacey Cole in the ACES Office of Advancement at acesadvancement@illinois.edu or 217-333-9355. Gifts can also be contributed online at giving.illinois.edu.
2022 JBT scholars: Payton Block, Paris; Emily Brooks, Prophetstown; Olivia Charles, Mount Carroll; Kira Diaz, Schaumburg; Julianne Enas, Aurora; Amelia Gallaher, Beardstown; Kylie Gavin, Lake Zurich; Jordyn Gerlach, Waggoner; Caroline Gill, Princeville; Summer Goodwin, Lake in the Hills; Cecilia Guzman, Chicago; Nicolas Hernandez, Champaign; Vibha Iyengar, Cupertino, Calif.; Emma Kuhns, Mason; Allanah Martin, Gilberts; Amelia Nelson, Champaign; Shirel Ponnudurai, Selangor, Malaysia; Hannah Rockwell, Granville, Ohio; Ryan Roeschlein, Elmhurst; Emily Rohrbach, Chicago; Cecylia Selwocki, Park Ridge; Malani Smithenry, Homer; Jenna Spangler, Marietta; Carmen Trotta, Chicago; Margaret Vaessen, Sublette; Brooke Voelker, Forsyth; Gretel Wurdack, St. Louis, Mo.