Keep learning in the ACES tent at 2023 Farm Progress Show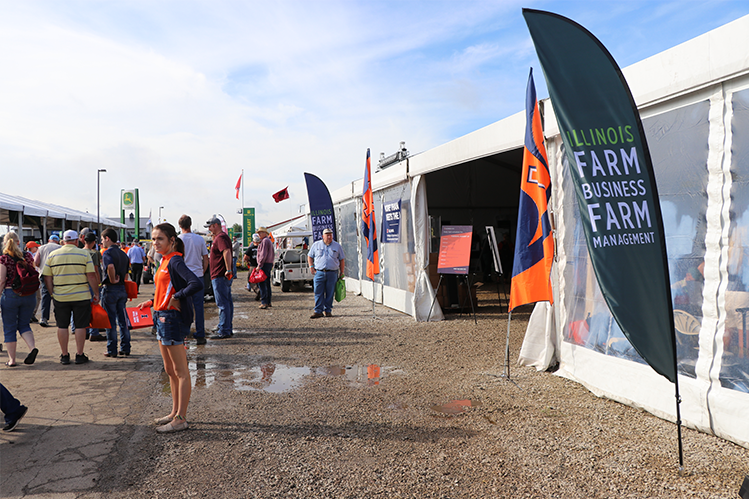 ACES tent at the Farm Progress Show
The College of Agricultural, Consumer and Environmental Sciences (ACES) has something for everyone — and they don't just mean the wealth of offerings in their tent at the 2023 Farm Progress Show.
When you come in the main gate, turn right and head for the orange and blue of the University of Illinois tent at the 2023 Farm Progress Show. Located south of the main entrance on West Avenue, the College of ACES tent will feature a host of ways high school students, producers, community members, alumni and industry experts can get involved with ACES, Illinois Extension, and more.
 "The ACES tent will feature hands-on activities that showcase what we do best in our college—connecting people with knowledge and tools to thrive in our industry and in their personal lives," said Jenny Larson, assistant dean for marketing communications at the College of ACES.
"New this year, the ACES Online Programs team will be onsite to engage with adult learners looking to gain credentials to support upskilling and advancing their careers."
With online courses that count towards Continuing Education Units to 15 virtual, graduate-level certificates on hot topics like advanced agronomy and digital agriculture — ACES' expertise is more accessible than ever before. Representatives from the college's traditional undergraduate and graduate programs can chat about options based on every student's career goals.
Check out high-tech and hands-on exhibits and have some fun with current students, faculty, and staff. Plus, look for ACES alumni from far and wide.
Illinois Extension, the state's university outreach unit serving 102 counties, will offer demonstrations, resources, and onsite expertise throughout the show including a pollinator display and plant clinic, beef-cattle best practices, farm safety demonstrations, and more. Spanish translators will be available.
The crop sciences department will have special demonstrations on Aug. 29.
Plus, representatives of the Farm Business Farm Management Association and farmdoc will be on hand to answer questions and share information—including the effects of this season's drought conditions. Chat with social media icon and agricultural economist Scott Irwin, who recently published a book on commodity futures markets, on Aug. 30.
Another person not to miss: the college's newly appointed, permanent dean Germán Bollero: "I look forward to engaging with our alumni and friends at this year's show as we look to the future of our college, and I hope that more people will become a part of our community through ACES' ever-expanding online educational opportunities."
Tune in to FPS-exclusive radio
For even more news you can use, be sure to tune into AM 1610 on your way to and from the show. College of ACES staff will offer up show traffic and parking updates. The temporary radio station is exclusively for Farm Progress Show information and can be picked up anywhere within 7 miles of the show site.
Calling all ACES alums
The College of ACES Alumni Association will be greeting ACES Alumni in the tent and giving away Illinois and ACES gear so you can show off your Illini pride during the show and beyond.
"There is something about seeing the iconic Block I that makes you want to shout 'ILL!'" said Larson. "We'll have plenty of ACES swag on hand to share and help connect with our College of ACES community during this event."