New legislation means more flexibility for 4-H youth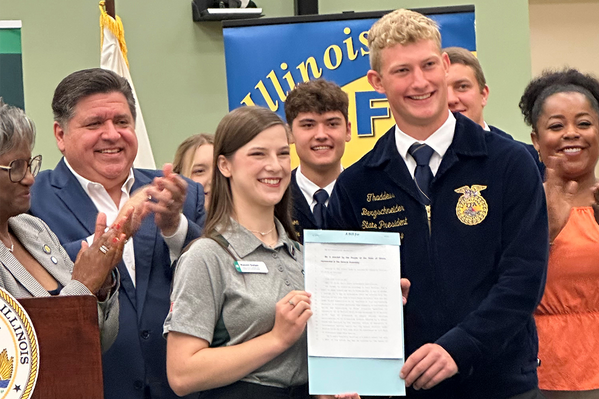 SPRINGFIELD, Ill. — On Monday, Aug. 14, Governor Pritzker signed House Bill 3814, which allows youth enrolled in FFA and Illinois Extension 4-H to use their program participation toward their school attendance.
"House Bill 3814 will allow students attending agricultural learning events to count that towards their school attendance," remarked Pritzker. "These learning opportunities cultivate professional development and responsibility in our youth, and their hands-on experiences ought to count towards their education. This new law is a major win not just for our students—but for the future of our agriculture industry."
Illinois 4-H youth leaders and staff were on hand in support of the bill signing, with 4-H Youth Leadership Team Chair Naomi Dolan of Vermilion County providing remarks on behalf of 4-H. "Through 4-H, members have the opportunity to develop a wide range of career skills including leadership, communications, problem-solving, and entrepreneurship skills," shared Dolan. "These and other skills learned through 4-H are valuable in the workforce regardless of their chosen career path. In addition to career skills, 4-H members develop a strong work ethic, a sense of responsibility, and a commitment to community service, which are all qualities employers look for in potential employees. This bill allows 4-Hers and FFA members to freely participate in programming during a prime time in their lives when college, career, and personal development events are essential in ensuring their future success."
Lisa Diaz, assistant dean and program leader for Illinois Extension 4-H, emphasized the importance of this legislation, saying, "4-H and FFA create opportunities for youth to use their skills to address real-world issues and to develop as community leaders. This bill recognizes the importance of these hands-on learning experiences beyond the classroom as critical to preparing youth for future success. We are thankful to the sponsors and supporters of this bill for removing barriers for more youth to freely participate in these valuable opportunities."
Learn more about Illinois Extension 4-H programs, membership, and volunteer opportunities.
About Illinois 4-H
Illinois 4-H is the flagship youth development program of University of Illinois Extension and is administered through the College of Agriculture, Consumer and Environmental Sciences. 4-H grows true leaders, youth who are empowered for life today and prepared for a career tomorrow. The hands-on approach in 4-H gives young people guidance, tools, and encouragement and then puts them in the driver's seat to make great things happen. Independent research confirms the unparalleled impact of the 4-H experience, demonstrating that young people are four times more likely to contribute to their communities; two times more likely to make healthier choices; two times more likely to be civically active; and two times more likely to participate in STEM programs.
About Extension
Illinois Extension leads public outreach for University of Illinois by translating research into action plans that allow Illinois families, businesses, and community leaders to solve problems, make informed decisions, and adapt to changes and opportunities. Illinois Extension is part of the College of Agricultural, Consumer and Environmental Sciences at Illinois.