U.S.-German Forum on the Future of Agriculture publishes "Recommendations on Climate for the National Level and Transatlantic Cooperation"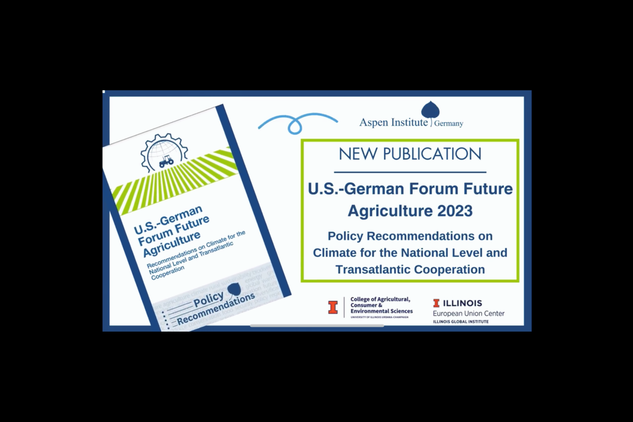 Given their shared values, common interests, and influential agricultural sectors, Germany and the United States are natural collaborators to ensure food security and the long-term viability of the agricultural sector.
A transatlantic collaboration, The U.S.-German Forum on the Future of Agriculture, led by Germany's Aspen Institute together with implementing partner, the University of Illinois Urbana-Champaign, provides joint global leadership, especially with regards to adapting to a rapidly changing climate.
In addition to an exchange of experience, witnessing best practices on-site, and establishing new transatlantic networks, U.S. and German farmers as part of this project developed policy recommendations and action points on climate and agriculture for the national and transatlantic levels. These recommendations address climate resilience of agriculture, agriculture's power to mitigate climate change and protect natural resources, and the importance of balancing the social, economic, and environmental sustainability of agriculture and rural regions.
The public is invited to attend a virtual event showcasing the project on September 27, 2023, from 10 a.m. – 12:30 p.m. CDT convening participants from Germany, Europe, and the United States to discuss the policy recommendations, with panelists representing the political, research, business, and practice sectors. The event will be held in English.
To register, please click here.
Download and read the final publication with resulting recommendations.  
Read more about ACES hosting the U.S.- German Forum on the Future of Agriculture.  
Members of the 2023 cohort include: AJ Blair (Blair Farm LLC); Nancy B. Brannaman (Paddy Ridge Farm); Chandler Bruns (Precision Planting); Dr. Alyssa Cho (Bayer Carbon Program); Christian Egel (Thuringian State Office for Agriculture and Rural Areas); Dr. Thomas Gäbert (Agrargenossenschaft Trebbin eG); Hans-Heinrich Grünhagen (Grünhagen Farm); Adam Joseph Henkel (Self-employed farmer); Juliane Horsch (Klim GmbH); Dr. Björn Küstermann (Landgut Krosigk GmbH); Dr. Alex Lindsey (The Ohio State University); Marie Saudhof (Saxony-Anhalt Rural Youth Association e.V.; Nelben Farm); Florian Schiller (German Agricultural Society DLG e.V.); Donald Schnitker (Schnitker Family Farms LLC); Dr. Carmen Ugarte (University of Illinois at Urbana-Champaign); Erik Unger (Self-employed farmer; Saxon State Office for Environment, Agriculture and Geology).
The project is supported by the Transatlantic Program of the Federal Republic of Germany, funded by the European Recovery Program (ERP) of the Federal Ministry for Economic Affairs and Climate Action (BMWK).