ACES students named 2023 Community-Academic Scholars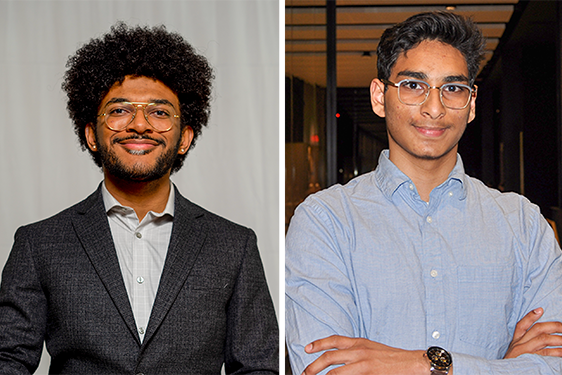 L to R: Julian Martinez and Adam Syed
The Interdisciplinary Health Sciences Institute, in partnership with the Center for Social and Behavioral Science and with support from the Office of the Vice Chancellor for Diversity, Equity, & Inclusion, has named the 2023 class of Community-Academic Scholars, including two from the College of ACES. IHSI's Community-Academic Scholars Initiative matches undergraduates with academic mentors and community partners to address issues affecting our community.
Let's meet the 2023 Community-Academic Scholars from ACES:
Julian Martinez (he/him) is a sophomore majoring in natural resources and environmental sciences. Julian is interested in sustainability and conservation and seeks ways to enact these efforts into his life and community to better the world. He has worked for Urban Growers Collective in Chicago and is familiar with and passionate about the initiative to strengthen the locally grown food presence in the commercial scene. Julian will work with Recreation, Sport and Tourism Prof. Sharon Suiwen Zou and the Illinois Extension Community and Economic Development Unit to conduct a nationwide study to assess consumers' awareness, preferences, attitudes, expectations, and willingness-to-pay related to local food dining consumption. Learn more about the project.
Adam Syed (he/him) is a sophomore majoring in food science and human nutrition with a concentration in and minoring in Spanish with a passion for building opportunities and uplifting communities. He founded and ran the ASIAN club as a haven for diversity throughout his years in a predominantly white high school, developed a nutrition program alongside the Cunningham Children's Home, and is a Certified Nursing Assistant. At Illinois, he is community chair of Nutrition in Health, a member of the Illini Medical Screening Society, and founder/president of the Cheese Club and Healthcare Bookclub. Adam and fellow scholar Afnaan Afsar Ali will work with Kinesiology and Community Health Prof. Wendy Rogers, Postdoctoral Researcher Samuel Olatunji, and ClarkLindsey Life Plan Community staff to conduct a needs assessment with ClarkLindsey staff and residents to identify the activities for which Stretch, an assistive robot, can support to the needs of older adults with cognitive impairment and/or mobility impairment. Learn more about the project.
Read the full announcement at IHSI's website.