Long receives honorary doctorate from University of Essex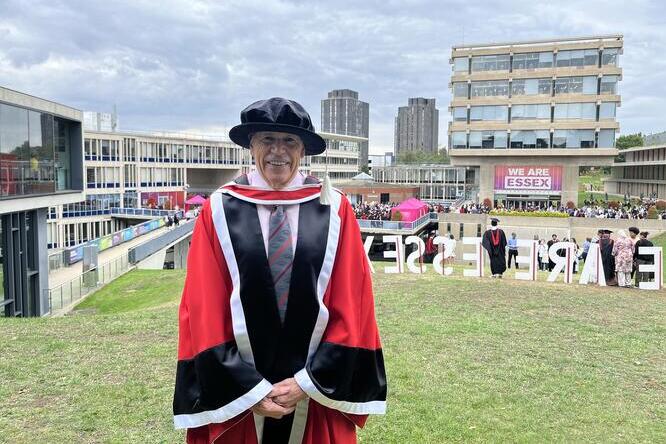 "I have been lucky enough to receive a few awards throughout my career, but none is more special to me than this."
The founding plant scientist at the University of Essex, Steve Long returned to Colchester on Friday to receive an honorary doctoral degree.
"I have seen biology at Essex grow from three faculty to 53 and become one of the largest and most successful schools in the university and country," Long told the School of Life Sciences summer graduating class of 2023. "My naïve vision when I arrived almost 50 years ago of Essex becoming a world leader in photosynthesis research and development has been realized."
Long joined the Department of Biology, now the School of Biological Sciences, at Essex as a lecturer in 1975. He helped develop a new experimental curriculum and a research group focused on photosynthesis, that would go on to gain an international reputation. During his time at Essex, Steve identified the most productive plant on Earth and conducted one of the first two field trials in the world of Miscanthus, a plant currently being used as an alternative energy and fuel source. He established Global Change Biology, the most highly cited journal on climate change; and began developing mathematical models of photosynthesis, among many other achievements. Because of these contributions at Essex, he was elected a Fellow of the Royal Society of London in 2013.
"Steve continues an outstanding career. His leadership, intellectual insight, and passion for plant biology are unquestionable," said Christine Raines, longtime collaborator and friend of Long's and Professor at Essex, during his introduction at the ceremony. "His collegiality and support of those who work with him are the cornerstones of Steve's approach to research. His commitment, bravery, and seemingly endless energy for research shows he has the Essex spirit in spades!"
While his achievements during his time at Essex are substantial, Long was also chosen to receive this honor because of his research and societal contributions afterward. In 1999 he joined the University of Illinois Urbana-Champaign where he now holds the Ikenberry Endowed Chair of Crop Sciences and Plant Biology. At Illinois, Steve has led the establishment of three major research programs with funding totaling more than half a billion dollars; he has established two more international plant science journals; and become one of the most highly cited scientists in the world.
One of the research projects Steve leads, the Realizing Increased Photosynthetic Efficiency (RIPE) Project, allows him to maintain close connections with Essex and bring together two of the most successful photosynthesis research institutions in the world for the purpose of improving crops for smallholder farmers in sub-Saharan Africa and Southeast Asia. This work, combined with his genuine love of Essex, has brought him back to the area each year – with the exception of 2020 – since he left 25 years ago.
"Work that Steve started at Essex and continued at Illinois has changed the way photosynthesis is modeled and pioneered ways to measure the impact of rising CO2 levels on plants in the field," said Raines. "Steve's influence in building the plant science program, specifically the photosynthesis research group at Essex, helped position Essex into the international leader it is today."
Throughout his career, Steve has mentored and shared his expertise with more than 40 PhD students and more than 20 postdoctoral researchers. He shared some of that wisdom with his fellow graduates during his commencement address on Friday, leaving them with this final thought.
"Think big. Be fearless. If you're committed, there is nothing you cannot achieve. You will be spending most of your life working, so take time to find what you're passionate about and do it. Collaborate, because the whole is always great than the sum, and have fun doing it."
Watch the full graduation ceremony here, Steve's portion begins at 1:33:42 with an introduction by Raines. Read about all of this year's honorary graduates here.
For more, read the full story at the RIPE website.