Paulson honored as Gardner Hinderliter Endowed Professor in Farm Management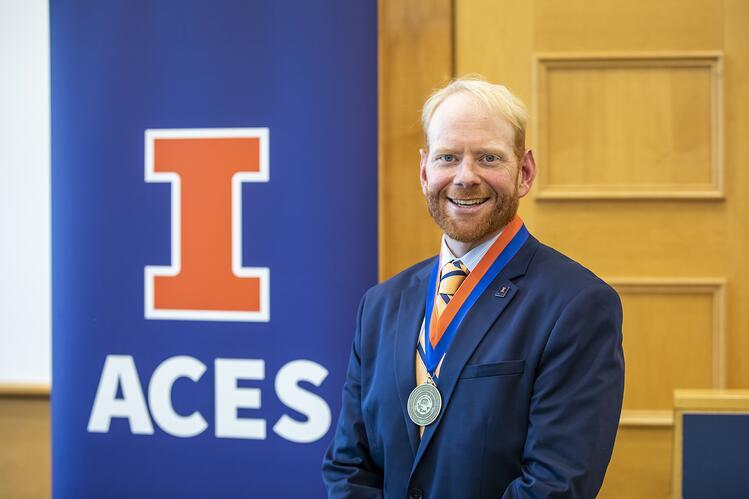 Nicholas Paulson
URBANA, Ill. – The Department of Agricultural and Consumer Economics (ACE) honored Nicholas Paulson as the Hobart R. and Marian Gardner Hinderliter Endowed Professor in Farm Management during an investiture ceremony in the College of Agricultural, Consumer and Environmental Sciences, University of Illinois Urbana-Champaign, on Oct. 13.
Paulson currently serves as the associate head of the ACE department and director of the farmdoc Extension project. From 2016 to 2023 he served as director of graduate studies in ACE. His appointment includes teaching, research, and Extension responsibilities. He teaches small business finance at the undergraduate level and agricultural finance and econometrics at the graduate level. He has received department, college, and national awards for teaching and extension quality and innovation.
Paulson grew up on his family's grain operation in southern Minnesota. He received a bachelor's degree in agricultural systems technology from Iowa State University. Continuing graduate studies at Iowa State, he shifted to economics and was awarded his doctorate in 2007.
His applied research program focuses on agricultural finance, farm and risk management, and policy. He has contributed more than 500 articles to the farmdoc website over the past 12 years. In 2019, he served as a senior economist for agriculture and trade on the White House Council of Economic Advisors.
"The overarching goal of Nick's research and Extension programs is to provide information and tools to help agricultural producers make the best decisions possible to optimize profitability and environmental sustainability. We look forward to the continued growth and impact of his outstanding work in the coming years," said ACE Department Head Sarah Low.
Hobart R. "Hobie" Hinderliter grew up on the family farm in Smithfield and his wife Marian hailed from Heyworth. Hobie completed two degrees at the University of Illinois Urbana-Champaign. Following his discharge from the U.S. Army, he taught vocational education for a year before serving as a professional farm manager for Rankin Farms for 60 years. He was a member of both the national and state Farm Managers and Rural Appraisers organizations. In recognition of his service to agriculture, he was inducted into the Jacksonville Area Agri-Industry Hall of Fame.
Marian obtained her bachelor's degree in business education from Illinois State University in Normal, and she worked for the U.S. Army Fifth Division in Chicago and State Farm Insurance in Bloomington. When her three children were growing up, she supported their activities in Cub Scouts and Girl Scouts. She was also a frequent volunteer at Passavant Area hospital for more than 28 years. 
Hobie and Marian generously endowed this professorship in farm management at the U. of I. through gifts of farmland.
 For more information about supporting the College of ACES, visit the ACES Office of Advancement website.