Philanthropy for the Pershings is a family affair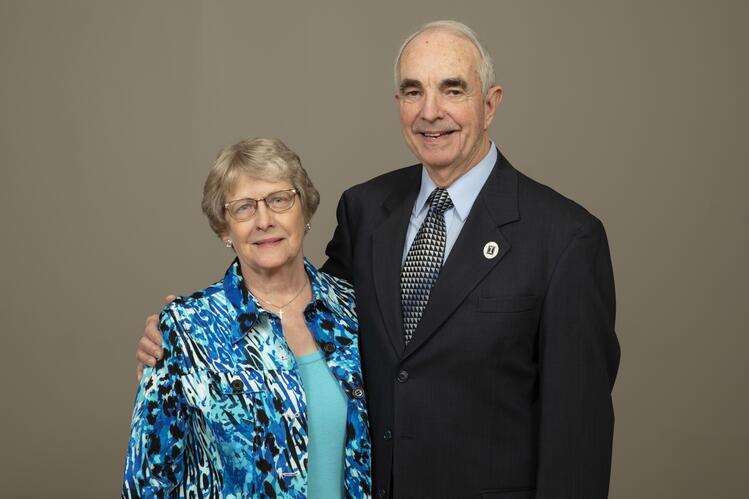 Roscoe and Ann Pershing
"Blessed," a simple answer was all that was given by Roscoe and Ann Pershing when asked why they give back to the College of Agricultural, Consumer and Environmental Sciences (ACES) at the University of Illinois. The Pershings, whose relationship with the U. of I. started more than four decades ago, find it important to provide opportunities for others, especially those at ACES.
Philanthropy was something they each learned from their parents. "Ann and I grew up with parents who were not wealthy but accumulated some extra resources through frugal and simple living styles. Our parents were always supportive and generous, not only to family but to friends and others in need of assistance. I think that was influential in how we support others and worthy causes now," Roscoe said.
Roscoe, a two-time graduate of U. of I., taught in and led the Department of Agricultural and Biological Engineering (ABE), after 19 years at Deere and Company. Under his leadership, ABE ranked consistently in the nation's top five graduate programs by U.S. News and World Report and doubled in size. In 1993, the program hit the No. 1 rank as he moved to the College of Engineering (now The Grainger College of Engineering) where he served as Associate Dean for Academic Programs, a position from which he would later retire.
He and his wife Ann support several programs and universities across the nation. Here at ACES, they support multiple programs from Illinois 4-H to study abroad to various scholarships...including two special ones named after Ann's two brothers who passed away early in their lives — both while students at the U. of I. The Frank William Bauling and James Arthur Bauling scholarship funds serve as remembrances of Ann's brothers while helping today's ACES students.
During graduate school, Ann's remaining brother, Doug Bauling, invited Roscoe to visit his family near Rockton, Illinois, and there Roscoe met Ann; and the rest of the story, as they say, is history! Doug has continued to be a major inspiration and role model for the Pershings.
Roscoe and Ann find it important to help others and hope that their gifts expand the scope and richness of the ACES student experience and inspire others to do likewise. "We hope our support provides increased opportunity for growth, development, and especially, success for students, but also for faculty, academic programs, and facilities. We are glad and proud to be a small part of these positive changes."