Play on! New Child Development Laboratory playground made possible by gift from ACES alumna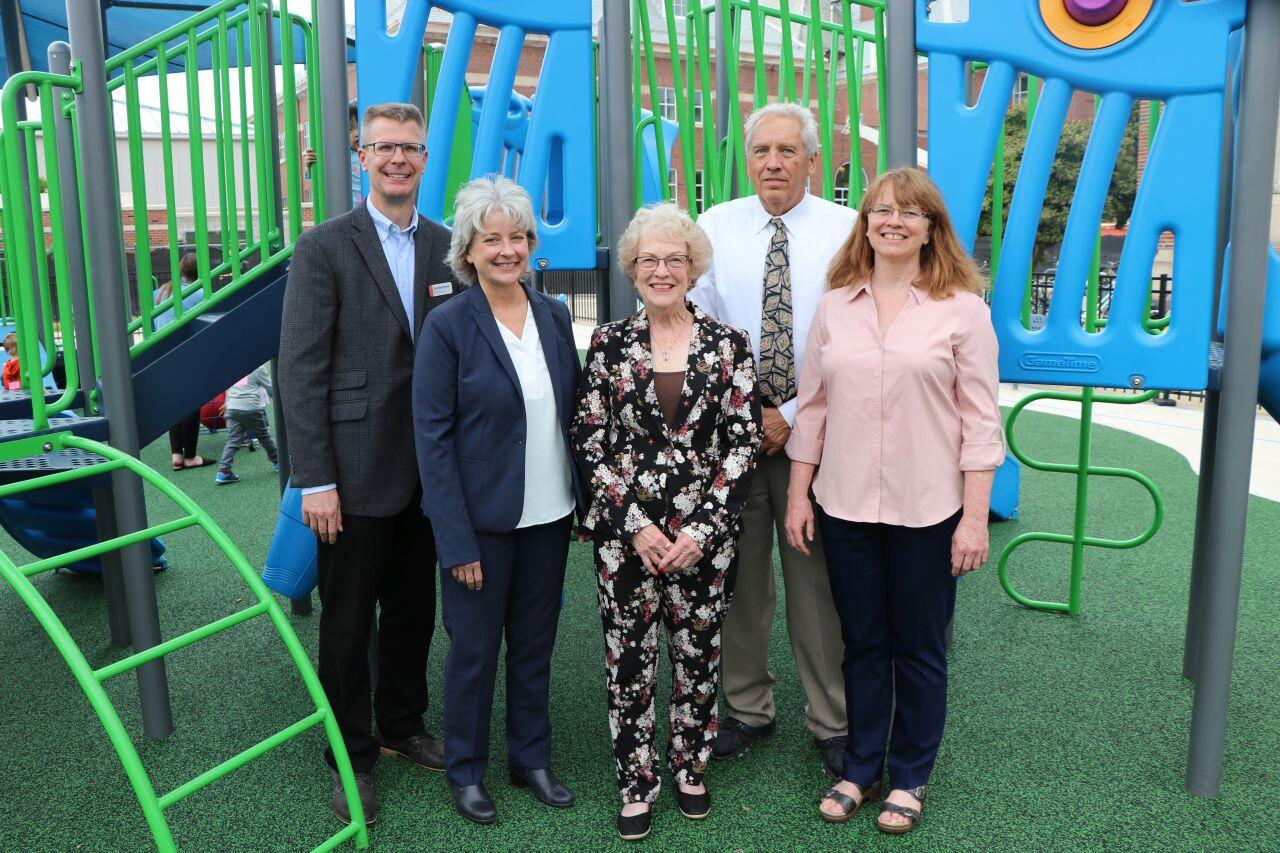 Play on! New Child Development Laboratory playground made possible by gift from ACES alumna
URBANA, Ill. – The Child Development Laboratory (CDL) at the University of Illinois has been part of the campus and Champaign-Urbana community for more than 77 years, preparing over 4,000 young children for successful futures.
A gift from Nannette "Nann" Armstrong, an alumna of the College of Agricultural, Consumer and Environmental Sciences at U of I, is helping to support the CDL in its commitment to provide high-quality early care and education for children, as well as to serve the campus through its teaching, research, and outreach and engagement.
Through Armstrong's gift, along with additional support from the College of ACES, the U of I Office of the Provost, and the Department of Human Development and Family Studies, a new playground was installed this summer at CDL.
The fully renovated playground was dedicated in a recent ceremony on campus, attended by Armstrong, friends and family, faculty and staff, and officials from the College of ACES and U of I.
ACES Dean Kim Kidwell remarked at the event, "Not long after I became dean, I was passing by the CDL playground and saw the obvious need for an upgrade. In the months after, I expressed the need for an upgrade to several audiences, including those attending a home economics alumni reunion event.
"Nann keyed in on this need and helped us elevate the work the college had already activated to create this special, multi-purpose space where kids can learn and play," she said.
When Armstrong first heard that plans were underway to renovate the playground, she knew she could help make it happen.
"I wanted to do this for the kids," Armstrong said. "Play is a really important part of children's lives and development."
Kidwell added, "This is an excellent example of what can happen when we all work together to create transformational change on campus, and in this case, the children of the CDL are the benefactors."
Brent McBride, CDL director, spoke at the dedication, pointing out the CDL's emphasis on positive learning experiences for everyone involved at CDL: children, parents, teachers, U of I students and faculty, and the broader community. "We believe that learning and development happen over the span of a lifetime through choices, play, exploration, experimentation, and reflection. Today's celebration is an acknowledgement of this commitment," he said.
Armstrong graduated from U of I in home economics education in 1964. She earned a master's degree in educational psychology and research at the University of Kansas in 1979. Armstrong taught middle and high school family and consumer sciences and worked for Illinois Extension. Her interest in supporting the playground renovation comes from a belief that play encourages learning and development.
In addition to the gift for the new playground, Armstrong established a fund with the University of Illinois Foundation to the support the Illinois 4-H youth development program and educational opportunities for students pursuing careers in the field of human development and family studies.
The CDL at the University of Illinois began in 1941 as a "child study lab" in what was known as the Women's Building (the English Building today). The CDL's current building on campus was built in 1955. In its 77+ years, the CDL has grown from not only being a place of high-quality care, play, and learning, but one in which world-class research is conducted.
With Illinois, the campaign for the University of Illinois continues. To learn more about College of ACES' campaign priorities, visit aces.illinois.edu/giving. To learn more about the Child Development Laboratory visit cdl.illinois.edu.