Students prepare for medical careers through the College of ACES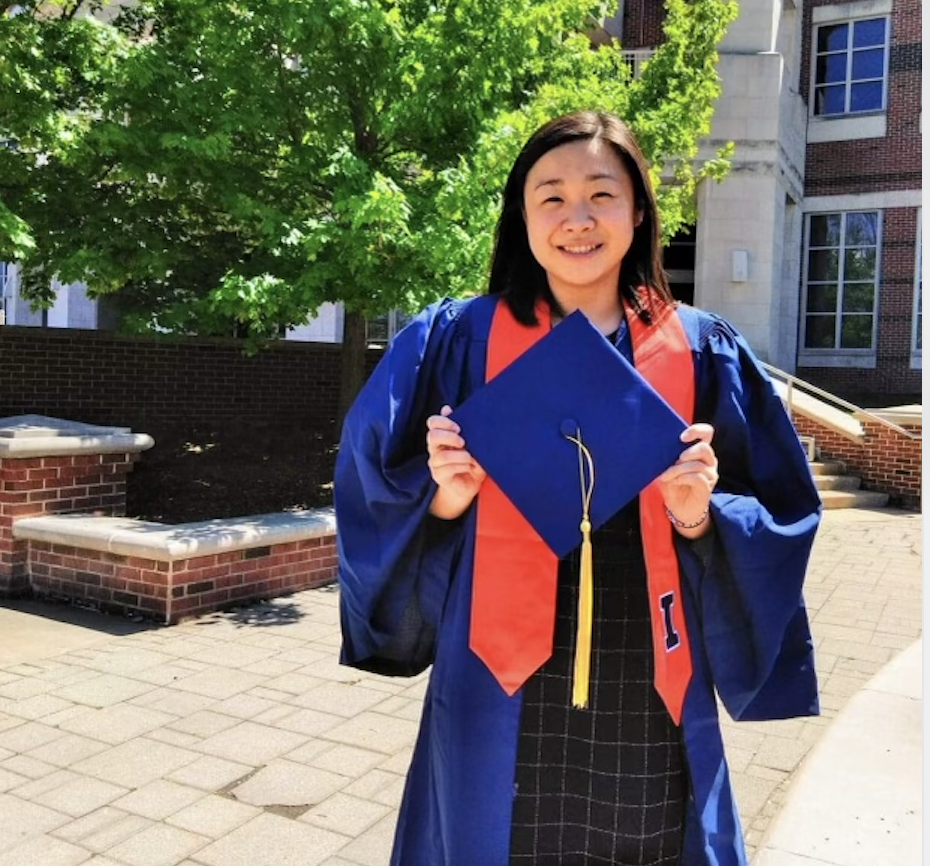 Students prepare for medical careers through the College of ACES
URBANA, Ill. – You may not think of the College of Agricultural, Consumer and Environmental Sciences (ACES) if you're aiming for a medical career. But health education is, in fact, a major part of the curriculum in ACES' Department of Food Science and Human Nutrition (FSHN) where students can pursue a pre-health track through the human nutrition concentration.
"We have quite a few students in human nutrition who express an interest in medicine. Because of the unique research we do in our program, the students find their experiences here provide a great focus for their medical school interviews. We've had great success getting students into medical school and other health-related fields," says Nicki Engeseth, FSHN department head.
Learn more about studying in FSHN and how to apply. Apply by January 5 if you plan to start the following fall.
Lauren Moy, a Chicago native, graduated from FSHN in May 2021 and is now a first-year student at the University of Illinois Chicago College of Pharmacy.
"Applying to pharmacy school is not just about having the highest grades in your classes. My involvement in many opportunities offered in FSHN along with my rigorous coursework allowed for a solid, holistic application that caught recruiters' eyes," Moy says.
As a student in FSHN's human nutrition concentration, Moy participated in undergraduate research in the clinical sciences, presented her work at the 2020 Undergraduate Research Symposium, served as a mentor in a large teaching team, and was a board member for several student organizations.
"These activities provided opportunities for leadership as well as a good balance of responsibilities and passions throughout my undergraduate career. What makes the Human Nutrition program so special is not just the versatile curriculum, but the holistic approach in ensuring all students are prepared for whatever field they want to pursue," Moy says.
"With the many opportunities in this program, students will discover their own passion and direction, along with encouragement and support from the wonderful faculty who are dedicated to making a difference in the health field."
Visit the Voices of ACES blog to read more about Moy's experiences, and learn about global health internships from Nicole Park, a senior human nutrition student in FSHN.
University of Illinois students can pursue a pre-health track through many different majors, as long as they take required courses such as chemistry, physics, and biology. Many of those classes are part of the human nutrition curriculum so it's a natural fit. And FSHN students can work with faculty who conduct research in a variety of health-related areas.
Two FSHN faculty members, Zeynep Madak-Erdogan and Yanina Pepino, are also Health Innovation Professors in the Illinois Carle College of Medicine, focusing on breakthrough medical research. But many FSHN professors offer classes and experiences relevant for health professions.
"Nutrition is very important to health, but's usually not part of the training in health-related fields. That's why we think our students have a strong advantage, because medical doctors historically don't have nutrition training. When our students start medical school they are already ahead in terms of the impact of diet on health," Engeseth says.
That's what caught the attention of Ximena Nevarez, sophomore in FSHN. The Bolingbrook native is on the pre-health track and aspires to become a physician.
"I chose to study in FSHN as I believe it is important to understand the connection between nutrition and health. Many conditions and diseases either come from malnutrition or malnutrition can be a factor of a condition worsening. I feel that majoring in human nutrition will give me a different perspective when treating and assessing patients," Nevarez says.
"Throughout the courses I have taken in my major, I have always been surprised or engaged with the content. Being engaged comes from learning the different ways nutrition can impact you, whether it is physically, mentally, or emotionally."
Toni Gist, academic advisor in human nutrition, can help students select appropriate course schedules based on requirements and consideration for the various medical and health-related programs they wish to pursue.
"I have heard from nutrition graduates who successfully interviewed for pharmacy or medical school where the interview committee was quite interested in the unique nutrition classes they completed. The students believed their experiences in FSHN helped them to rise above other applicants and earned them an acceptance letter," Gist states. 
In addition to nutrition classes and lab research, FSHN students can gain valuable experience through work or internships at campus facilities including McKinley Health Center, Campus Recreation, and the Division of Intercollegiate Athletics.
"The competition for health professions schools is rough. But I believe our students stand out during the application process due to their health-focused coursework, registered student organizations (RSOs), niche experiences, and clinical research opportunities," Gist says.
"They graduate with solid experiences and education that will allow them to succeed in health professions."