ACES Burt Swanson Scholarship honors rural development champion's legacy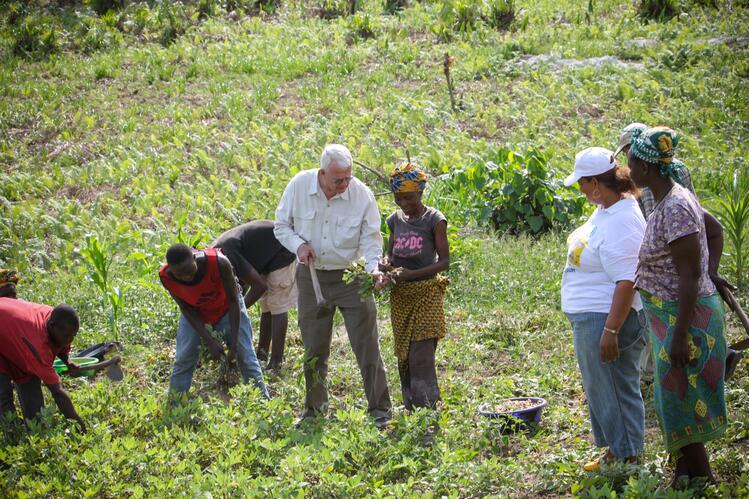 URBANA, Ill. — The memory of alum and former faculty member Burt Swanson lives on in students from the College of Agricultural, Consumer and Environmental Sciences (ACES) at the University of Illinois Urbana-Champaign who are supported by the Burt Swanson Scholarship in Rural Development to study abroad. 
"Burt was a remarkable person with great insight about how to make the world better. He was absolutely devoted to the idea that international work and understanding how the world works were the most important things in the world," said Iris Swanson, a U. of I. alumna, native of Champaign-Urbana, and Burt's wife of 35 years. "And if you asked him what he was working for, he would say peace."
Iris established the scholarship to honor Burt's legacy after his death in 2020 to ensure his passions would live on through the aid it provides students. The aim of the international study abroad scholarship is the same as Burt's accomplishments and aspirations: to encourage the growth of knowledge amongst international communities and students alike.
Image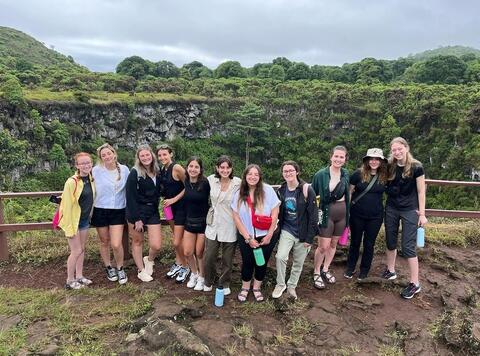 Jenna Schaefer, who graduated last spring with a degree in environmental economics and policy, was awarded the Burt Swanson Scholarship for the summer of 2022, which sponsored her study abroad trip to the Galapagos Islands. 
"I had an amazing experience in the Galapagos! I loved living with my host family, and we had a great group of students on the trip," Schaefer said. "It was really interesting to learn about agriculture in a much different context than what we see here in Illinois, and it was especially valuable to see the community's sustainable practices in person rather than just talking about it in a class."
This type of experiential learning was a major tenet of Burt's philosophy as a professor of rural development in the Department of Agricultural and Consumer Economics. That's why the travel scholarship just made sense as a way to remember him.
"He thought it was life-altering for young people to get out of their environment and go out into the world," Iris said. "The scholarship just seemed like the perfect way to honor his passion. I didn't want his name to get lost."
Burt was known for his devotion to international farming communities. Throughout his influential career, he conducted research in international extension and agricultural education and authored books for the FAO and World Bank. He embarked on international extension missions in over 40 countries. 
Burt also created the International Program for Agricultural Knowledge Systems (INTERPAKS), designed and led the USAID-funded Agricultural Reports for Rural Income (AERI) project, and acquired the $9 million USAID-funded Modernization Extension and Advisory Service (MEAS) project to expand exposure and projects for the College of ACES.
"He believed the extension of knowledge was how you were going to really help people in these poorer rural settings. He believed that the way to help a rural community was to help them get organized, and he would concentrate on the types of work that women did as well," Iris said.
"He realized very quickly he wouldn't have been happy sitting at a desk. He wanted to be doing. He wanted to deal directly with people. If you went into a village somewhere, like in India, you might find, in their tiny little Extension office, Burt's books and pamphlets translated into their language," she added. "Most people on this campus had no idea who Burt was — people in that village knew who he was."
Burt was devoted to both education and his job, Iris added, always overextending himself to take on more projects. He was dedicated to bettering the lives of those in poverty and alleviating challenges for rural farmers and women, often encouraging students to broaden their worldview through international study and projects of their own. Now, his scholarship does the very same.
While in the Galapagos Islands, Schaefer said she and fellow students spent their time working on class and project work while also exploring the island and connecting with their host families and community members. Schaefer said the once-in-a-lifetime experience reignited her passion for environmental sustainability, a field she is currently exploring as part of her graduate studies in agricultural and applied economics.
"I am so grateful I had the opportunity to meet some of the wonderful people who live in the Galapagos and experience the islands' beauty. I highly doubt I would ever have been able to go there without the study abroad program," Schaefer said. "I have always been very interested in environmental sustainability, and I am more committed to a career in this field now because I'm even more motivated to protect such beautiful places in the world."
To this day, Burt continues to make his impact on the College of ACES, its students, and international agriculture all over the world, inspiring many and remembered by all.
"I loved my husband. I wanted his vision," Iris said. "He really believed in education. He really believed in young people. That they were going to be our answer to everything."
For questions about the scholarship, contact Matthew Smith at msmi@illinois.edu. To make a gift, send to Univ. of Illinois Ill. Foundation, P.O. Box 734500, Chicago, Ill., 60673, fund #11774812. Online, www.uif.uillinois.edu/give fund #11774812.