ACES, Extension partner Jackie Joyner-Kersee named 2023 commencement speaker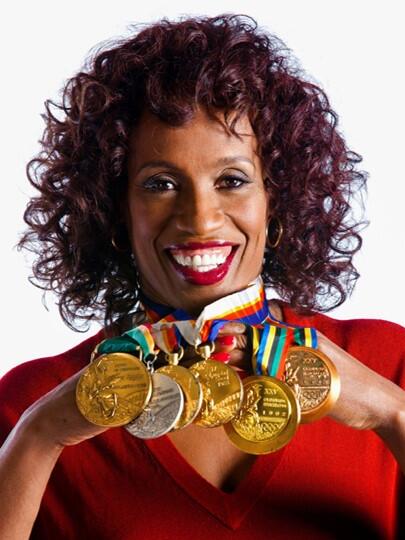 Jackie Joyner-Kersee
CHAMPAIGN, Ill. — Six-time Olympic medalist Jackie Joyner-Kersee will serve as the University of Illinois Urbana-Champaign's commencement speaker Saturday, May 13, at 9:30 a.m. in Memorial Stadium.
Competing in four different Olympic games in track and field, Joyner-Kersee is the first woman to win back-to-back gold medals in the heptathlon and the first woman to break 7,000 points in the heptathlon – a world record still standing today. She also is the first African American woman to win an Olympic medal in the long jump. ESPN named her one of the 50 Great Athletes of All Time, and she was named Female Athlete of the 20th Century by Sports Illustrated.
Joyner-Kersee grew up in East St. Louis, Illinois, and attended UCLA, where she competed in track and field and basketball, and graduated in 1986 with a bachelor's degree in history. After her Olympic success, she founded the Jackie Joyner-Kersee Foundation, which supports youth and families in her hometown and across the U.S. Established in 1988, the foundation focuses on community development by providing resources and programming on leadership, education and athletics. Joyner-Kersee said her motivation to pursue community outreach began when she was in college. 
"As a freshman in college, I was met with a lot of challenges and hardships. I started thinking, 'Where do the young people go?' Growing up, I came through a community center that had an impact on my life. It stayed with me," she said. "It was always my dream to go back home. When I started my foundation, I didn't do it for popularity. I did it because I felt there was a need there. It was a way to pay it forward before I even knew what paying it forward meant."
Joyner-Kersee's philanthropic efforts with children's education, health, and nutrition eventually led the JJK Foundation to partner with ACES and University of Illinois Extension in 2019. Personnel from the East St. Louis Extension office run youth-centered agriculture and leadership programs on site at the JJK Center. Further, ACES and Extension staff, faculty, and students are working with JJK center youth and staff to build a community garden, a vertical farming site, a test kitchen for food innovation, and small-business opportunities related to community-supported agriculture. 
"Even though we're introducing our kids to agriculture, they can leverage that knowledge and the science behind it to become entrepreneurs or advance in careers they didn't even know existed," says Joyner-Kersee. "And if we can build a pipeline of young people from this area wanting to go to the College of ACES, that's what success looks like to me."
Joyner-Kersee said her commencement address will focus on the importance of believing in yourself.
"You can turn a doubter into a believer as long as you believe," she said. "But that belief must start with you. Always be willing to put in the work. The job is never done, no matter how successful others say that you are. Always have the hunger. Always be willing and open to challenge yourself. Know that there is only one you. That one you is unique. Allow yourself to spread that uniqueness while helping and supporting others."
Read the full commencement announcement from the Illinois News Bureau. 
Read more about ACES and Extension's partnership with the JJK Foundation.
Read about the JJK Food Agriculture and Nutrition (FAN) Innovation Center.
Learn how the JJK Foundation, ACES, Extension, and the Danforth Center connect urban youth to careers in ag and food innovation.