College of ACES new facilities increase research and learning capabilities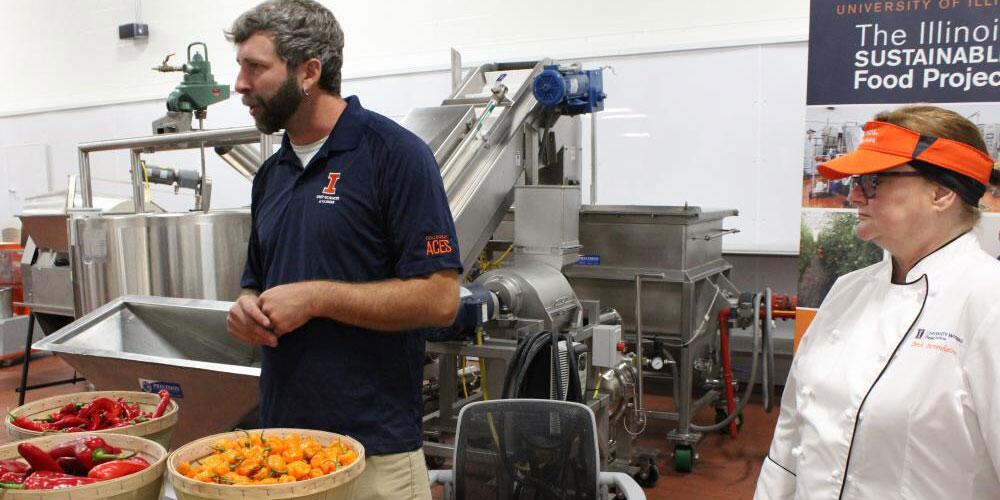 College of ACES new facilities increase research and learning capabilities
Students in the College of Agricultural, Consumer and Environmental Sciences (ACES) at the University of Illinois are learning hands-on about food systems, starting from seed improvement and soil science to commercial food processing, as well as bioprocessing technologies for industry, thanks to new facilities and renovations across the ACES campus.
An open house on Friday, September 28 celebrated the completion of multiple renovated and newly constructed facilities. The fresh spaces included the new Integrated Bioprocessing Research Laboratory (IBRL), Turner Hall Transformation, and the renovated Food Science and Human Nutrition (FSHN) Pilot Processing Plant, located in the Agricultural Engineering Sciences Building. Alumni, community members, corporate representatives, students, and friends of the college visited the facilities.
"These state-of-the-art facilities allow for amazing student learning opportunities, groundbreaking research, and unique outreach experiences," says Kim Kidwell, dean of the College of ACES. "These new spaces represent translation zones where researchers, industry partners, and students come together to create innovative solutions to the challenges in food and agricultural systems."
"We are grateful to the dedicated alumni, donors, and legislative representatives whose unwavering support made these projects happen," Kidwell adds.
Food Science and Human Nutrition Pilot Processing Plant Renovation
The $3 million renovation of the FSHN Pilot Processing Plant, completed in spring 2018, has provided a multi-purpose facility for student instruction, cutting-edge research, and collaborative exploration with external food-industry partners. Some of the key improvements include: food grade and instructional suites, an industrial test kitchen/teaching lab, and upgraded processing equipment.
"We look forward to continuing to expand partnerships based on new and expanded capabilities," says Brian Jacobson, assistant director of food and bioprocessing pilot plant operations.
Because the pilot plant facility serves as a small food processing plant on campus, students are also learning to follow good manufacturing processes, including proper procedures for food handling, equipment cleaning, and personal sanitation. Products such as tomato-based sauces are processed in the plant and consumed in university residence halls.
The FSHN pilot processing plant renovation was made possible by gifts from alumni, friends, and industry, including donations of equipment. Funding was also provided by the Provost's Campus Facilities Matching Fund, College of ACES, and Department of Food Science and Human Nutrition. Naming opportunities remain.
Turner Hall Transformation
The Turner Hall project transformed crop science and soil science laboratories into 21st-century learning environments. The three-floor renovation includes updated classrooms on the first and second floors of Turner Hall, and advanced laboratories in the basement. Classrooms feature new technologies, state-of-the-art equipment, new flooring, HVAC, and lighting. The new classrooms allow for greater learning capabilities in crop sciences, entomology, and weed science undergraduate courses. Updated shared student spaces, as well as upgrades to the north annex of Turner Hall, are part of the renovation.
"One of the first things people will notice are the new, inviting public spaces distributed around the first floor," says Adam Davis, department head of crop sciences. "We want students, visitors, staff, and faculty to feel welcomed by these spaces and to use them to meet, collaborate, or just relax.
"Our redesigned classroom spaces include large lecture areas and smaller active learning classrooms, all outfitted with advanced communications technology hubs that can be easily reconfigured and updated as needed. Teaching labs have been reorganized around lean design principles, increasing the amount of usable space, and providing easy access to essential equipment. All of these changes work together to make Turner Hall a learning environment that supports flexibility in teaching styles and enhances our students' experience," Davis adds.
An alumni Turner Hall Transformation fundraising committee was formed in 2012 to gather support for the renovation. GROWMARK provided the first corporate gift to the project. Gifts from Corteva Agriscience and Bayer made possible the renovation of the two largest teaching laboratories (for crops and soil sciences) in 2015. Gifts from AgReliant Genetics, BECK'S, alumni, friends, and other organizations allowed for the second phase of construction. The Chancellor's Classroom Improvement Initiative and Provost's Facilities Matching Funds Project provided additional funds. Gifts are still being accepted to fund additional needs in Turner Hall.
Integrated Bioprocessing Research Laboratory
The new, 42,000 square-foot IBRL is a state-of-the-art pilot-scale facility that will accelerate the commercialization of bioprocessing technologies in renewable chemicals and fuels. The facility is designed to scale bioprocessing technologies and help bridge the gap between academic research and industrial commercialization. Unique IBRL resources include facility space, equipment use, support staff, and access to the intellectual capital housed at the University of Illinois.
"IBRL is designed as a flexible plug-and-play facility," says Vijay Singh, professor in the Department of Agricultural and Biological Engineering and director of IBRL. "You can roll in different types of equipment, connect them to quickly develop a process in eight different bays, with each bay equipped with a full suite of process utilities. This capability is unique and allows us to easily use our equipment with specialized equipment from our industrial partners."
IBRL held a formal ribbon-cutting marking the official grand opening on Thursday, September 27.