Illinois program turns cowgirl dreams into livestock research reality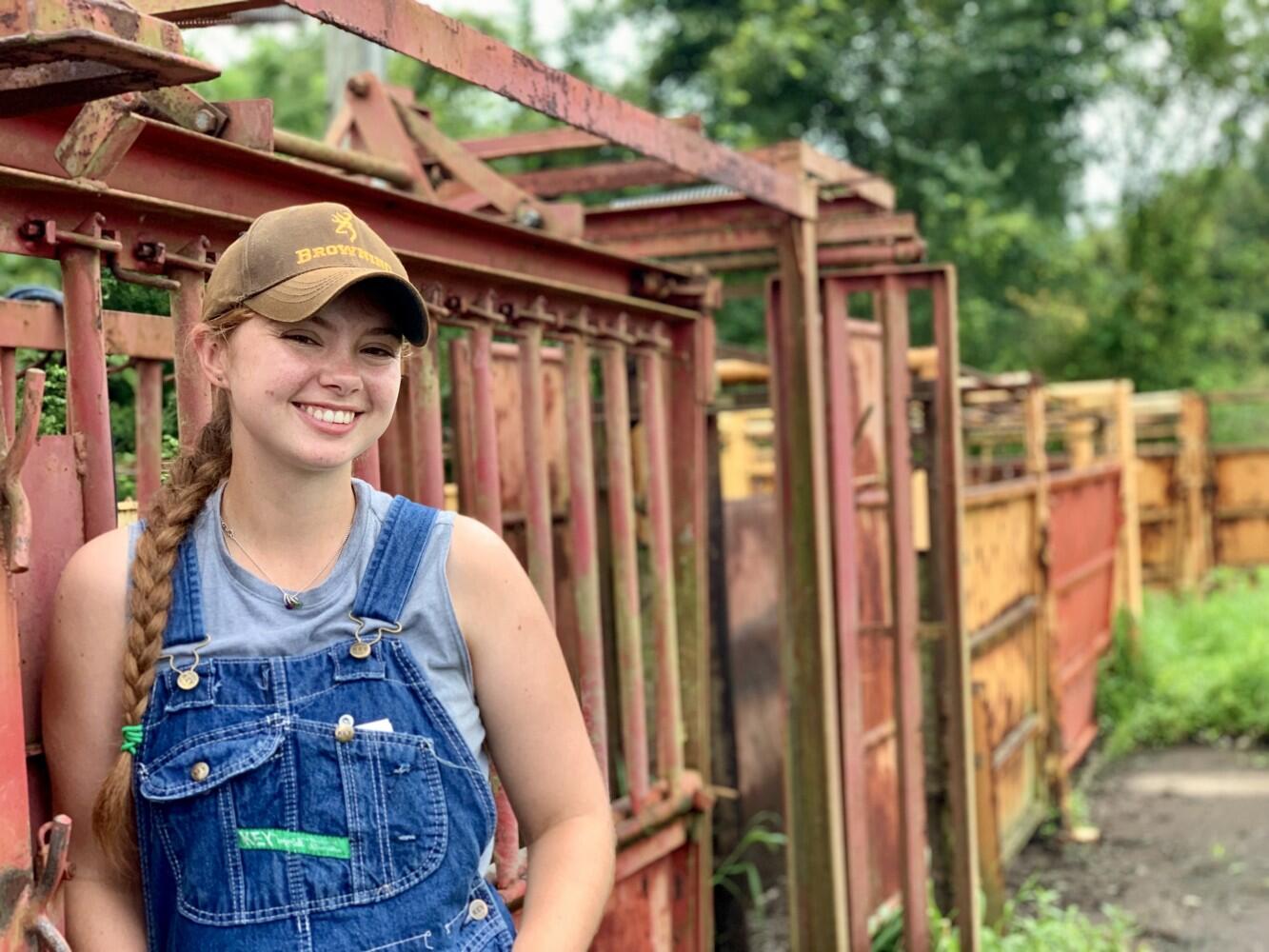 Illinois program turns cowgirl dreams into livestock research reality
URBANA, Ill. – The moment 4-year-old Sarah Graham sat in a saddle for the first time, she announced she wanted to be a cowgirl. For the suburban Chicago preschooler, it was an unlikely dream. But it stuck.
Fast-forward 15 years and Graham was finishing up her first year in the College of Agricultural, Consumer and Environmental Sciences at the University of Illinois, where she enrolled with the hopes of one day becoming a large-animal veterinarian. She applied to dozens of animal agriculture internships for that summer, but was rejected or ignored by every single one.
"It can be hard to break into the world of agriculture when you didn't grow up around it," she says. "For the summer after my sophomore year, I decided to apply to the Illinois Beef Experiential Learning and Industry Exposure (I-BELIEF) program."
That decision changed everything.  
"The I-BELIEF program had an extraordinary impact on my life. It not only gave me mentors, research experience, and large-animal experience, it also gave me a huge amount of confidence, a best friend, and some of my biggest role models. I have said this time and time again to anyone who will listen: It was the best summer of my life," Graham says.
Upon graduation, Graham was accepted into not one but eight veterinary schools and is now enrolled in a dual veterinary and Master of Public Health program in U of I's College of Veterinary Medicine.
Launching numerous careers in the beef industry, the I-BELIEF fellowship is an intensive year-long program offered through the Department of Animal Sciences at U of I, University of Illinois Extension, Illinois State University, and Western Illinois University.
"I-BELIEF students work directly with cattle, develop their own research projects, present their findings at a professional conference, and connect with industry leaders," says Josh McCann, assistant professor in animal sciences at U of I and one of the program leaders. "We mentor them every step of the way. It's a serious commitment for us, but we do it because we absolutely believe in giving them these opportunities."
The program aims to prepare the next generation of leaders in the beef industry.
Keela Trennepohl, assistant professor at Western Illinois University (WIU), says, "The I-BELIEF program opens opportunities not only for our students at WIU to gain research and production management experience but also provides a unique collaborative opportunity for the major agriculture institutions to work together with a common goal of producing beef industry leaders. This collaboration is exciting and essential for the viability and forward progress of the agriculture and beef industry." 
I-BELIEF primarily targets students who are underrepresented in the beef cattle industry, including first-generation college students, economically disadvantaged students, minorities, or women. Many have their sights on graduate school or veterinary school but have never done research before.
"We tell students if they like asking questions and they're curious, they'll probably enjoy graduate school. But it's not for everybody, and that's OK; about 25% of our graduates have chosen other paths. We're all about getting them experience, helping inform their process, and mentoring them along the way to help them be successful in whatever they choose," McCann says.
Graham says, "Research can be very daunting, but Dr. McCann and Dr. Dan Shike always made us feel we were supported in what we were doing. Whether it was clarifying a sample collection question or editing our abstract, they were always there making sure we knew that we weren't doing it alone."
Illinois Extension and faculty mentors at ISU or WIU provide similar support.
The program, now in its fifth year, was recently awarded another five years of funding through the USDA's National Institute of Food and Agriculture. Whereas the program took five students per year in the first five years, 10 will be mentored per year through 2027: five placed at U of I, two each at Illinois State University (ISU) and Illinois Extension, and one at WIU.
While ISU and WIU students participated in the program in the past, this is the first year students will be hosted at the campuses in Normal and Macomb.
"My career path evolved to what it currently is because of a similar undergraduate research opportunity. So I understand how valuable this opportunity is and am looking forward to introducing students to the world of animal science research through what we do here at Illinois State University," says Jennifer Earing, assistant professor at ISU.
Students can be enrolled at any two- or four-year college in Illinois. Paired with faculty and Extension mentors, they spend the spring preparing for a summer in residence at cattle research centers around the state.
During the summer, students carry out original research projects and learn all the ins and outs of a working cattle operation, including early mornings, long hours, and few glamorous moments.
"I collected and processed a lot of samples, learned a lot about the scientific method, and started to really understand the reality that research with live animals isn't perfect. Sometimes the cattle were too far away to do respiratory rates when you wanted to or they escaped while we were trying to have our morning meeting," Graham recalls. "The point is, after 10 weeks at Dixon Springs, I was hooked on research. And I don't know if I have ever looked back at an experience so fondly."
After conducting research in the summer, the students come together for a capstone program. During the three-day workshop, the students have an opportunity to talk to industry leaders about their research and learn more about career opportunities in the field. Then, throughout the fall semester, students analyze their data and prepare to present their findings at the annual Midwest Animal Science Meeting.
For Graham, the program was the first step toward her goal of serving rural areas and making life better for her neighbors and their livestock.
"It turns out my childhood goal of becoming a cowgirl, or more realistically a cattlewoman, wasn't just a silly dream," Graham says. "The I-BELIEF program fostered my love of cattle and encouraged me to make this part of my future career."
For more information and to enroll in future years, see the I-BELIEF website. Applications will open in November for the summer 2023 experience.
The I-BELIEF program receives support from the David R. Jenkins and Mary J. Mattern-Jenkins Animal Sciences Fund.