Summer interns experience the future of agriculture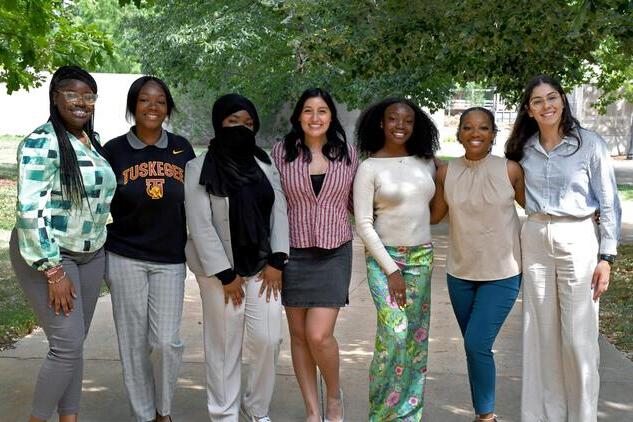 2023 cohort of the CDA's Research Experiences for Undergraduate (REU) interns
Many STEM fields lack the kind of diversity other disciplines enjoy. At the Center for Digital Agriculture (CDA), they understand the importance of attracting talented young researchers from a variety of backgrounds. The impact of diversity in research has been well-studied, showing that outcomes and results are far more powerful the more diverse the team of researchers. But diversity is also important for the researchers themselves, benefiting their mental health and their ability to collaborate and innovate.
"UIUC is in the center of a booming AgTech hub in the United States. The CDA REU program aims to give students exposure to some of the up-and-coming Ag technology and research as well as exposure to career paths they may have not previously considered," said Christina Tucker, CDA REU Program Coordinator and Assistant Director of Education for the Center for Digital Agriculture and AIFARMS.
The experiences of this year's cohort of the CDA's Research Experiences for Undergraduate (REU) interns show that when these programs are carefully crafted to include diverse participants, everyone benefits. The CDA REU program specifically encourages applicants from underrepresented communities to apply, engaging in robust outreach with historically black colleges. By creating a space where the students felt welcome and supported, CDA has instilled a passion for research in a group of bright and promising young women who may someday go on to help solve the big agricultural problems facing the world in the next few decades. Here are some of the experiences of the REU interns this year.
Kennedie Manuel
Image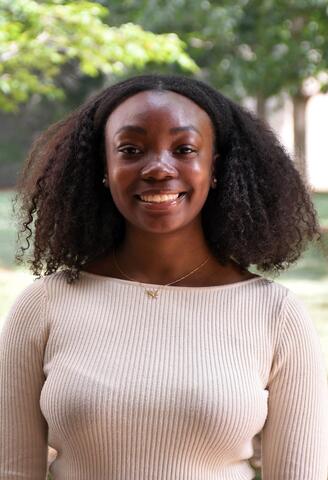 Kennedie Manuel is a student at Tuskegee University who was mentored by Isabella Condotta, a professor from the University of Illinois Urbana-Champaign's (UIUC) animal sciences program. When she first started her undergraduate courses, she was excited about her major. She wanted to pursue veterinary medicine and was eager to take the classes. But as time went on, she felt it wasn't the greatest fit for her. "As I'm entering my final years of school, I'm finding veterinary medicine is just not something I'm interested in anymore. I was hoping to find something that still fell within the STEM fields but wasn't as, to put it bluntly, gory." When she heard about the REU program out of CDA and read up on the details, she was intrigued enough to apply. "I was really interested because it combines computer science with agriculture."
Manuel spent most of her time during the internship working on a computer. She was tasked with creating software that will automatically detect estrus in pigs by tracking their tail movements. While most of her project time was spent at a desk in front of a monitor, she also came away with a memory that she said was her favorite day. "My mentor took me to the farm for the whole day. I was helping him collect data from the beef cattle farm and the swine farm. We were flying drones over the cattle, and it was just so fun and unexpected."
Image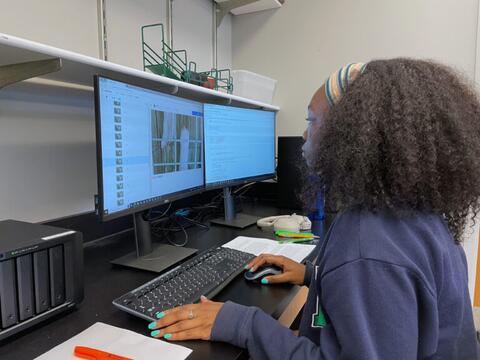 "The fact that our REU group was all women was really cool as well. We just finished our first symposium, and when we presented our posters, I was just looking around at all the other groups and thinking, 'We're the only all-women research group here at this huge symposium.' And all the color in our group, too. It was really personally rewarding to be a part of that."
Manuel explains that this program isn't just for people who have a lot of experience in these fields or with research. The program as a whole is welcoming and supportive, even for students with little or no experience. "I would just tell any student interested, 'Don't be afraid to not know about this stuff before applying.' When you're first coming in, it can feel intimidating, I didn't know anything about computer science or coding. But they're people here that will help you. Your mentors will help you, and you will come out of it knowing something that you didn't know coming into it. So don't let that scare you."
Valeria Suss
Image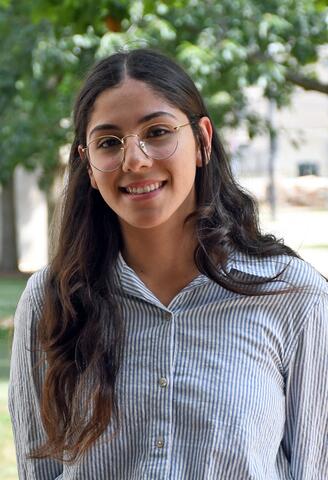 Valeria Suss' major is in biotechnology, and she comes to UIUC from the Inter-American University of Puerto Rico. Her mentor during the summer was Sarah Hind, a professor from the crop sciences program. For Suss, the best part of the CDA REU program was that she'd get to expand on what she'd learned in her classes and get hands-on experience in a laboratory setting. "I got to do a lot of amazing stuff in the lab," she said. "I really enjoyed the lab work."
Suss' Project was focused on biotechnology, which perfectly melded with her career aspirations. "We were aiming to develop transgenic tomato plants by using something called hairy root and making them able to express this gene that glows and make the roots of the tomato plants glow."
The aim of this project is to make tomato plants hardier by improving crop performance and resilience to changes in weather, and while the results of the project were important to Suss, one of the coolest things about her project, in her opinion, was learning how to manipulate the roots of tomato plants.
Image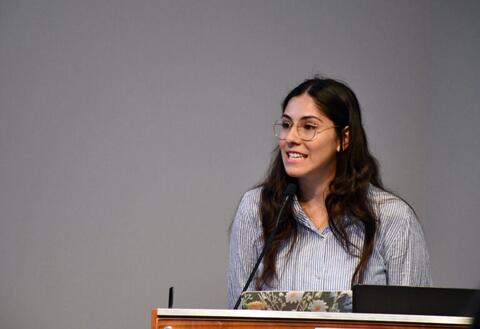 "Learning how to make glowing tomato roots was really, really cool," said Valeria Suss.
Her experience was so enjoyable; it opened up a whole new possibility for Suss on what types of careers she'd be interested in when she finished her studies. "This program has solidified for me the idea that I really want to look for a career with a research role. Even though I didn't know anything about plants when I started this program, I love plants now, all because I worked with them this summer in the program. The experience here has really made this path an option for me where it wasn't something I was thinking about before."
The time she spent in the program even made her think about coming back to Illinois to continue in this field and with CDA.
"I would consider coming back, especially to work under CROPPS, which is another part of the program. I would definitely consider going to graduate school here in Illinois because I really liked it here and had such a great experience."
Emma Fuentes
Image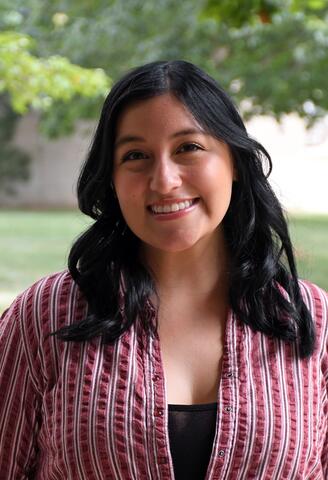 Emma Fuentes found her way from Texas A&M into the program from an interesting place. "I was actually recruited at an animal welfare competition," she said. "I was doing that more as a hobby, not as a career. I wanted to be part of that team and liked doing that kind of work. I'd never considered doing an internship related to animal welfare before the recruiter talked to me. Coming into the role more formally by joining a team at the Animal Welfare, Environment, and Sustainability Lab here at UIUC was a new experience for me."
Fuentes was mentored by Angela Green-Miller, an agricultural and bioengineering professor. Fuentes' project involved using computer software called Boris. This software allowed Fuentes to analyze video frames of pig behavior. CDA has found a lot of useful applications of this kind of analysis, and in Fuentes' case, her project was to research if this type of analysis could help predict respiratory infections in pigs. This kind of video tracking would help keep pigs healthier by providing early warnings when pigs are ill, allowing farmers to address the problem before it spreads or causes harm to their stock.
Fuentes learned a lot about the future of agriculture during her time in the program. "By 2050, we're expected to need to increase our agricultural production by 60%. A big focus of digital agriculture is looking at those benchmarks that seem far away, but they're actually pretty close when you factor in the environment, global warming and population growth."
Image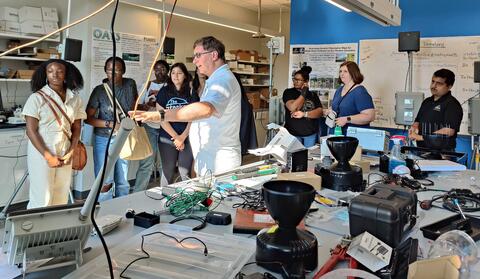 One of the things Fuentes appreciated about the program was the fact that this year's cohort was all women. "I always looked forward to our lab group meetings in particular. We had bi-weekly meetings, and our entire lab group was made up of all these really intelligent women. I really enjoyed having a seat at the table and feeling like it was a safe space to discuss ideas and ask questions. The make-up of the group also made me feel comfortable speaking up when I didn't know the answer to something without feeling like I needed to prove something."
Fuentes feels that there is a great deal of benefit many students could get out of this program. "I would recommend that any undergraduate go after an opportunity to try research just once. For example, I'm not thinking that grad school is necessarily what I want to go into or research as a profession, but I do think what I get into will be a part of the research process in some way. Programs like these are a good way to get exposed to different methods of problem-solving and working with other people. There was always a clear objective in a program like this, but it's just so open and constantly evolving throughout the process. I feel like experiencing that gives you skills to think more flexibly in other aspects of your life and academics and helps you understand all the moving parts if you do play a role in research – even if that ends up being in an indirect way."
Iradatu Sulayman
Image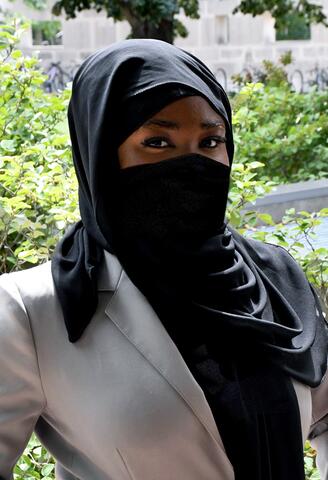 Iradatu Sulayman is a senior in the Interdepartmental concentration of Anthropology, Biology and Chemistry from Lehman University. She was looking for the next step in her education – what to pursue for her master's or P.h.D. For her, there were a lot of options to choose from, but the CDA REU program gave her the opportunity to try something new out. "When I entered the program, I thought of digital biology as a new and innovative field. Since I was exploring my options, this sounded like a good choice for me."
Her project involved interviewing researchers, undergraduates and graduate students about the social and ethical applications of their research work. She had two mentors working with her on this project, Matthew Hudson, a professor from crop sciences, and Cabral Bigman-Galimore, a professor from the communications department. Her project's goal was to determine how the research impacted society and whether it influenced their perception and choices. 
Like all the interns, Sulayman was paired with a mentor to help with her project. CDA wants to make sure every student in the program gets the support they need to have a successful internship. The mentors are carefully chosen, which is evident when Sulayman talks about her experience with her mentor.
"I've never interviewed someone before," Sulayman explains. "This was a first for me; it was intimidating. I wasn't sure how to go about it. And since the majority of my project centered around these interviews, it has to be well-established. So my first interview was with my mentor to help break the ice and get me started in this process and be more comfortable in interviewing more individuals. I appreciate that she also emphasized what I would get the most out of my internship. In the beginning, I told my mentor that I work with details. I like when a project or instruction is detail-oriented, so I don't go asking unnecessary questions, and I'm never unsure of what the next step is. So she was very detailed with me in response, which helped a great deal." 
For Sulayman, one of the best parts about the program was how closely she was able to work with the mentors and all the constructive feedback she received. "For my project, I worked with (need to figure out this word). Researching this and discussing it with my mentors like a peer, learning new skills and how to do professional presentations, all these things were great. I don't have much experience in research, but it's always been a field that interests me. The feedback was great because it wasn't just something I could apply to research but to other different sectors of my life as well. I felt like I had accomplished so much during this time."
Like many of her fellow interns, Sulayman enjoyed the experience of being embedded with an all-women REU group. "It was great to have that built-in understanding and support. When I talk about issues relating to women, they just get it, and I never felt uncomfortable broaching these subjects."
Munirat Ibrahim
Image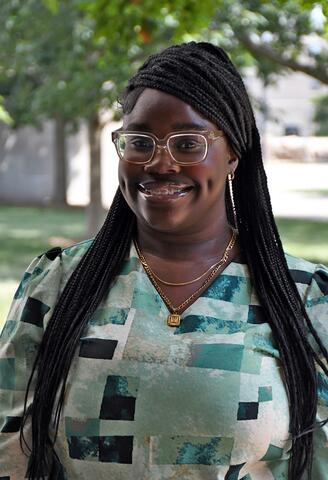 Like Sulayman, Munirat Ibrahim was looking to explore what she wanted to do after she finished her undergraduate work. She was drawn to the CDA program because of her deep interest in research. "When I saw that the program provided research experience, I knew that was something I had to look into. Since I'm also interested in agriculture, that made this a perfect choice. In this program, the two things go hand in hand."
Ibrahim's project involved studying soil moisture – more specifically, her team was trying to find out how soil moisture reacted in an environment with elevated ozone levels and drought conditions. Her mentor while she performed this work was Lisa Ainsworth, a professor from crop sciences and the School of Integrative Biology at UIUC.
Ibrahim found the program to be deeply enriching, but she also appreciated being paired with a good mentor who kept her grounded even when she was attempting something brand new to her. "My mentor, she was very, very helpful. They did a good job of picking mentors for this program. In the beginning, we were taught Python. For my project, we created 3D graphs using MATLAB. That was something that I was completely new to, and my mentor really like broke it down and helped me truly understand it."
Image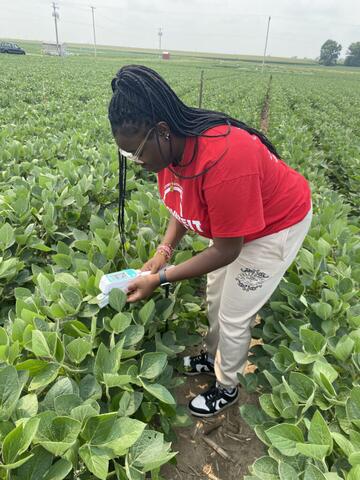 Being in the CDA REU program really helped Munirat focus on what she wanted to do after she graduates from Stony Brook University. "During my time here, I realized that I really like research. I've always enjoyed learning new things, but now I can add that I like to analyze data and come up with different conclusions. Now I know for sure that I want to go into research when I go to graduate school. But I've also found that I want to continue studying biology."
Munirat feels strongly that this program could benefit others she knows. "I will definitely recommend this to a friend interested in digital agriculture. Because one,  it's very inclusive and diverse. Two, it's not just the research experience you'll get out of this program. That's not to say the research and project aspect isn't worth it alone, but it's just nice that it's more than that. We also incorporate social events where we can bond and have time out of the office, and I really appreciated that."
Jelena Herriot
Image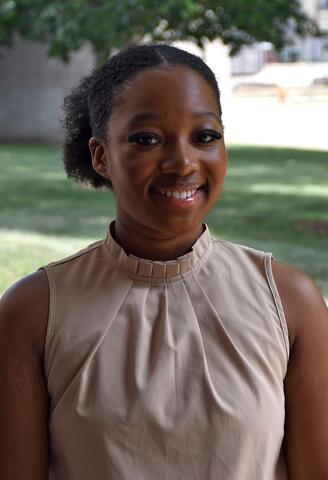 Jelena Herriott comes from Langston University and has been a CDA REU intern before. She loves the program so much she's come back this year to join a new project." This is one of the best REU programs because this program has personally allowed me to learn more about the field of Agriculture, has allowed me to take my research abroad to other countries, and this program has allowed me to network with other peers to further my experiences in the STEM field."
For Herriott, returning to UIUC was just one of the perks of applying. Aside from being able to come back and reconnect with professors on campus, she appreciated that this year's cohort was all women. "Being in an all-female cohort was very empowering. It was comforting almost. Being able to be inspired and reciprocate inspiration to women with different backgrounds was extremely motivating throughout my internship."
Herriott's project isn't only important for the future of agriculture, it holds personal value to her as well. "My project is about Developing a Pig Activity Index Model that would be able to categorize pig activity levels by low, medium, and high. For my family and I, we are interested in raising livestock. This could be beneficial for us and our community in the future."
Image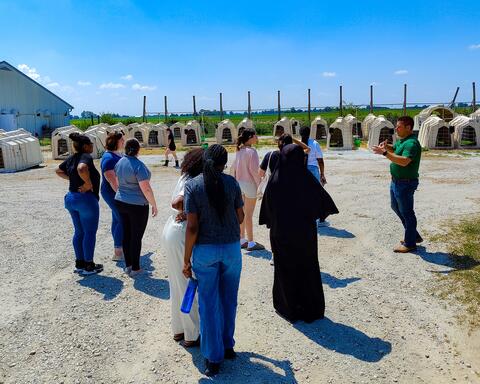 She loves what digital agriculture can do for society, and she plans to make it a part of her career going forward, with a special interest in supportive programs to help others. "I will definitely want to experience Digital Agriculture programs with non-profit organizations that aim to feed the community."
In her second year in the program, she encountered the same level of care and professionalism she did last year. CDA never failed to impress with its support and mentorship. "My mentor was extremely supportive throughout my internship. My mentor, Mekali Felton, guided me through every challenge and watched me achieve my goals in finishing this project strong!"
For others interested in a program like this, Herriott expressed that she highly recommends it already to those she knows. "Every year, I recommend this internship to my mentees in the Atlanta 5 Strong Scholarship program."
Scotteria Scott
Image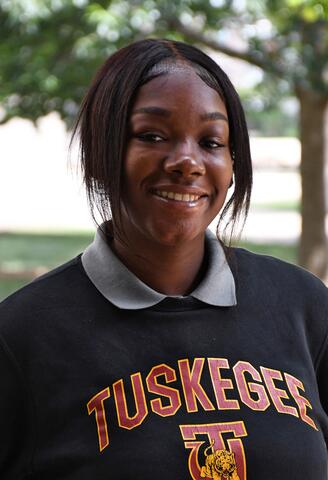 Scotteria Scott is a junior animal science major who comes to the program from Tuskegee University. She worked with her mentor, Angela Green-Miller, on creating a standard operating procedure on how to use computer vision tools to automatically track animal location and detect animal activity. She spent the summer learning and documenting how to use existing detection models YOLOV4, Label Studio, Detectron2, and DeepSORT.
One of the aspects of the program that stuck with Scott outside of the research experience was the camaraderie of her cohort. "Over these past 10 weeks, I've had the opportunity to work with intelligent women from different universities in STEM," she said. "Being surrounded by that motivates me, and we all bonded over our work and goals."
Scott was sure the program was a good fit for her career aspirations, but she came away with so much more. Digital Agriculture was new to her, and experiencing it in this way was the perfect gateway to inspiring her to learn even more.
"The work I've done over the summer in the program motivated me to get more involved with digital agriculture. To help me progress toward that goal, I plan to minor in computer science. This summer project has lit a spark in me I never knew I had, and I want to learn more about digital agriculture," said Scotteria Scott, CDA REU intern, Tuskegee University.
Scott feels strongly that students should consider applying to programs like this, especially women. "I recommend this program to other students because this program has helped me develop as a leader. It's also taught me things about research and professional development that should continue to be passed along to women in STEM."
Mentor Recognition and Appreciation
Programs like this are only possible with the tremendous work of the mentors. Mentors help make the REU experience special for the student researchers and provide a model example of research support and collaboration through their efforts. Mentorship is as much a part of the REU learning experience as the research itself and demonstrates the importance of teaching, cooperation, and respect in the research process. CDA wishes to recognize the following mentors for their work with this year's REU cohort:
Faculty mentors: Lisa Ainsworth (Crop Sciences)​, NSF PI Angela Green-Miller​ (Agricultural and Biological Engineering), Matt Hudson​ (Crop Sciences), Cabral Bigman-Galimore​ (Communication), Isabella Condotta​ (Animal Sciences), and Sarah Hind (Crop Sciences)
Postdoctoral and Graduate mentors: Mickey Felton, Elise Aspray, Sarah Benevento, Lucas Borges dos Santos, Justin Larkin​, Mamunur Rahman​, Tawni Williams-Stroud
Program Coordinator: Christina Tucker (Agricultural and Biological Engineering)
There are many opportunities for students interested in state-of-the-art agriculture in CDA's summer REU program. If you are a student who is interested in this one-of-a-kind program, you can find more information about it here.
This REU program is possible because of financial support from NSF proposal #2244580 REU Site: Drivers for Machine Learning and Artificial Intelligence Practices (MAPs), the Center for Digital Agriculture, Artificial Intelligence for Future Agricultural Resilience, Management, and Sustainability (AIFARMS)(USDA/NIFA Award #: 2020-67021-3279), and Center for Research on Programmable Plant Systems (CROPPS) (NSF Subaward #: 92226-20524).
Read more from the National Center for Supercomputing Applications