Summer marks University of Illinois Feed Technology Center completion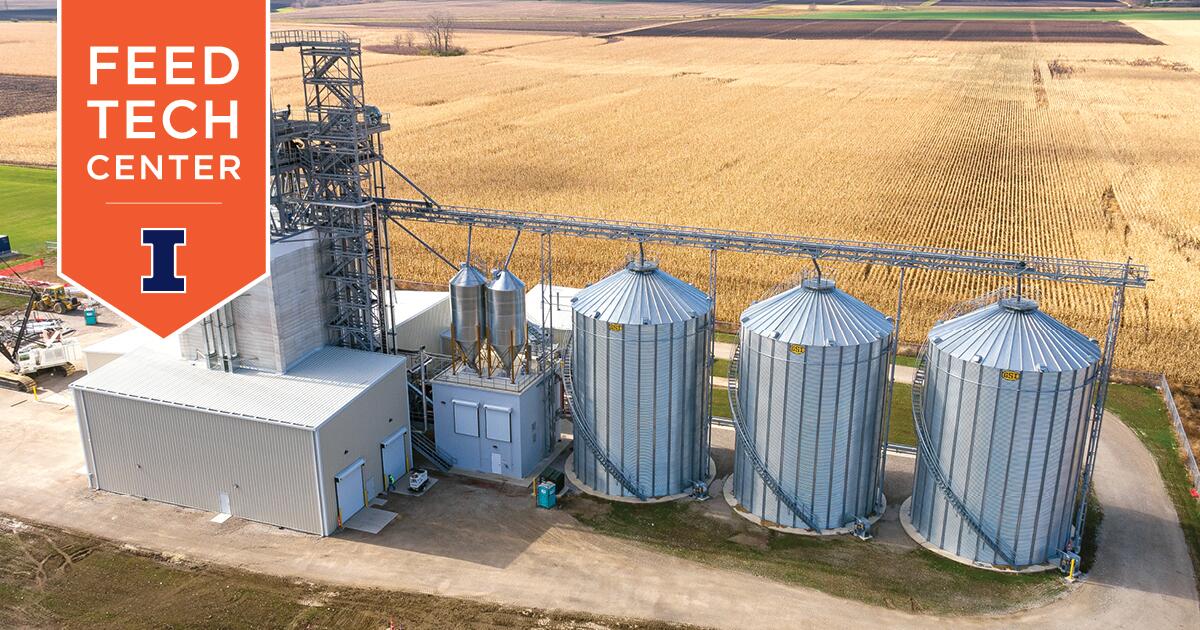 Summer marks University of Illinois Feed Technology Center completion
URBANA, Ill. – After nearly two years of construction, the new Feed Technology Center at the University of Illinois is complete and open for business. Bringing this facility online cements the university's role as a national leader in animal nutrition innovation and signals its active collaboration with the grain, livestock, companion animal, and feed industries.
Instead of an in-person grand opening, a behind-the-scenes video series and fact sheet share the facility with students, alumni, donors, and potential users, regardless of location. A first-look video, featuring leaders from the College of Agricultural, Consumer and Environmental Sciences at Illinois, as well as facility sponsors, is now available on the Feed Technology Center's web page. Additional videos, highlighting the center's capabilities and research impacts, will be posted in the coming months.
"The Feed Technology Center is a game-changing asset that elevates our ability to live into our land-grant mission," says Kim Kidwell, dean of the College of ACES. "This facility not only expands our ability to conduct innovative research and train the next generation of leaders in animal nutrition, it gives us a new avenue to reach out to industry stakeholders and provide continuing education opportunities."
The $20-million facility on South Race Street in Urbana replaces the 1920s-era feed mill on St. Mary's Road, originally built to process university-grown grain and feed university-owned livestock. The new Feed Technology Center's capabilities go far beyond that intent, with state-of-the-art processing and sensor technologies delivering standard and specialized small-batch research diets, as well as unparalleled hands-on educational opportunities for students across the College of ACES.  
More than 20 companies, commodity groups, and private individuals donated funds or equipment to the project as part of a unique public-private funding model, fast-tracking the build after decades of planning. The project invites additional donations.
"The companies, organizations, and individuals supporting the project partnered with us to continue the university's preeminence in animal nutrition and feed manufacturing. This facility and ongoing partnerships will move the entire industry forward," says Kimberly Meenen, assistant dean for advancement in the College of ACES. "We continue to seek financial support of the Feed Technology Center and welcome other stakeholders to join us in this investment."
The 12,000-square-foot facility is optimized with leading-edge equipment, including smart sensors to monitor feed ingredient quality in real time; digital automation tools to ensure precise diet formulations; a standalone extrusion line to create high-quality pet and livestock feeds; current safety and sanitation features; and more. 
"We have incredible opportunities here at the Feed Technology Center, for students, researchers, and industry partners alike," says facility manager Michaela Braun. "The equipment not only makes it possible for students to gain exposure to the complete modern feed-production process, from whole grain storage to pelleting and extrusion, but also makes real-time data available to researchers at multiple points in the process. It's all here to advance the animal agriculture industry."
In addition to developing and testing novel feeds and pet foods, the facility will allow students to safely gain first-hand experience with the latest feed technologies, positioning them as future leaders in the industry. Real-time sensor data will be uniquely leveraged in new courses in precision agriculture, digital agriculture, bioinformatics, and courses within the new Computer Science + Animal Sciences degree.
"Working with our generous donors to turn the Feed Technology Center from a dream into reality has been a career highlight for me," says Rodney Johnson, head of the Department of Animal Sciences at U of I. "I am so excited to have finished on time and on budget. Our faculty and students are excited to utilize the facility to work on the industry-relevant research our partners count on us for."
To catch the entire video series, check the website often or follow us on social media. And, for more details on the facility's capabilities, see our fact sheet.