U. of I. alum receives first-ever Shin Humanitarian Award, pays it forward to College of ACES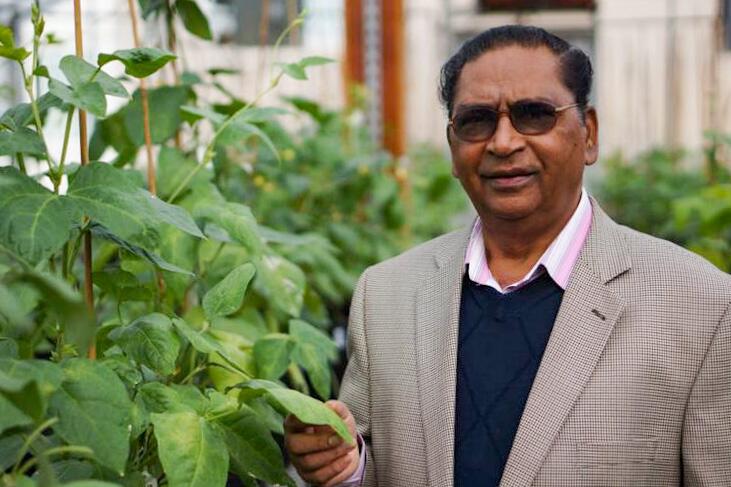 B.B. Singh with cowpea plants (Credit: Texas A&M AgriLife)
Renowned crop breeder Bir Bahadur (B.B.) Singh was honored with the inaugural Dr. Tai R. Shin and Mrs. You H. Shin Humanitarian Award by the University of Illinois System in recognition of his exemplary impact on humanity by addressing global food security. 
The Shin Humanitarian Award ceremony will be held on Sept. 12, when Singh will give an invited lecture on the "Development of improved varieties of protein-rich pulse crops for human health, wealth, and happiness." Singh will also present the $50,000 gift that accompanies this award to the Department of Crop Sciences in the College of Agricultural, Consumer and Environmental Sciences (ACES). Tai (Terry) Shin and Singh are both ACES alumni. 
Established in 2022 with a $2 million pledge, the Shin Humanitarian Award recognizes those who promote the betterment of society; exhibit courage and integrity to better lives; improve environmental sustainability; take action on equality issues; or strive in other ways to protect and promote human rights.
"Singh's contributions represent significant progress in the ability of communities around the world to produce high-yield nutritional crops and to sustainably feed the Earth's growing population. The lasting impact epitomizes the spirit of the Shin Humanitarian Award," University of Illinois System President Tim Killeen said. "By sharing his expertise and inspiring others to follow suit, he inspires future advancements that will improve the lives of people throughout the world."
Singh played a key role in introducing protein-rich soybean to India to satisfy the country's vegetarian diets. Best known for developing cowpea that yields in 60 days, he recognized the need for fast-maturing legumes that farmers could add to their crop rotation to maximize production. He bridged the gap from crop development to adoption by small-holder farmers to realize increased production, higher incomes, and enhanced food security across the globe. 
"The University of Illinois has been instrumental in making me what I am today," Singh said. "I was just a little boy from a very poor village who could not dream of anything, and now I'm a retired international scientist who has contributed in ways that I am proud of, that my country is proud of, that the world is proud of — and that the University of Illinois is proud of. I feel so grateful." 
Singh said he is pleased that this award enables him to give back to the Department of Crop Sciences where he earned his master's degree and doctorate. Singh and the department will work together to ensure that these funds boost the department's impact. 
"I am delighted to learn that an inaugural recipient has been chosen for the Dr. Tai R. Shin and Mrs. You H. Shin Humanitarian Award," Terry Shin said. "My wife and I have always believed in and strived to live the values which this award represents, and it is our hope that acknowledging other individuals within the University of Illinois System who exemplify these traits will inspire future generations of leaders to improve the world around them through their efforts."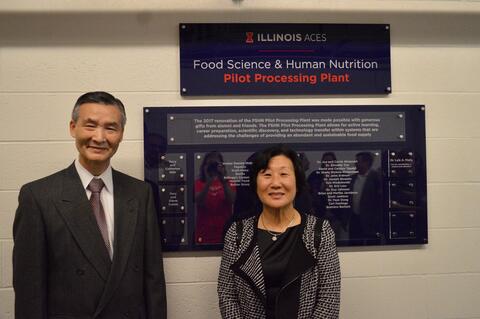 Terry Shin established Swagger Foods Corporation in 1978 after earning his master's degree and doctorate in food science and human nutrition. Over the years, he expanded the business to become a leading supplier of spices and dry foods to both industrial and retail customers. In addition to this award, the Shin family has supported scholarships and significantly contributed to the renovation of the Food Science & Human Nutrition Pilot Processing Plant. You H. (Catherine) Shin passed away in early 2023. 
Shin Award honorees are selected by a diverse committee of faculty, academic professionals, and students convened by Julian Parrott, senior assistant vice president for academic affairs at the U. of I. System. For more information about the award, contact Parrott at jparrott@uillinois.edu.
To learn more about endowment and other ways to give, contact the University of Illinois Foundation.